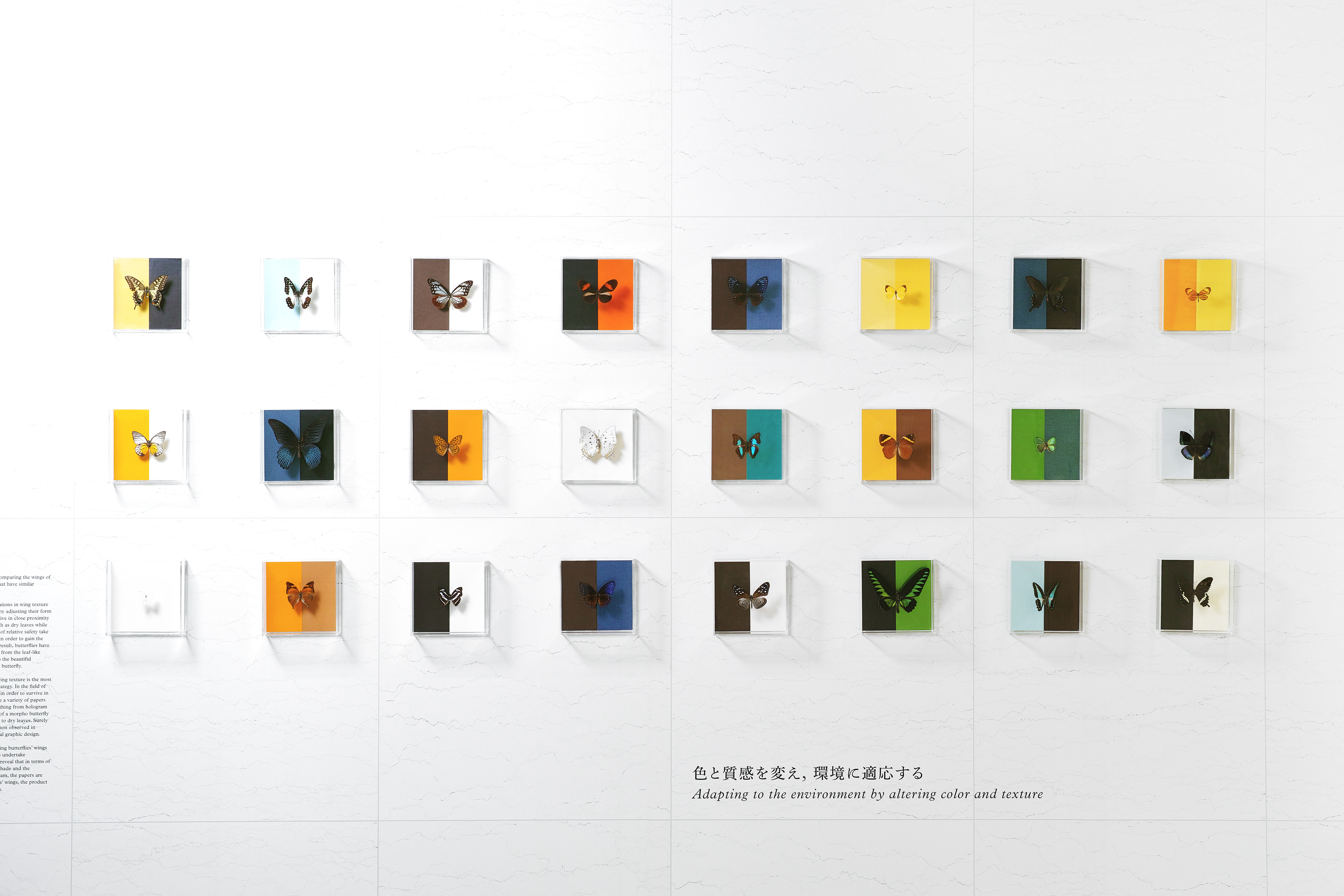 Can we increase innovators by learning from biological evolution and its creative process?
Society is changing drastically. Even now 50 years have passed since 1972, which is said to be the limits of growth, human beings are still growing. Changes to halt the collapse of biodiversity and actions to keep a sustainable society no longer have a temporal grace. We need more people to change society. We often say that things "evolve" changing society. If we say that changing society is evolving, will we be able to learn more about the process of evolving society from the evolution of living things?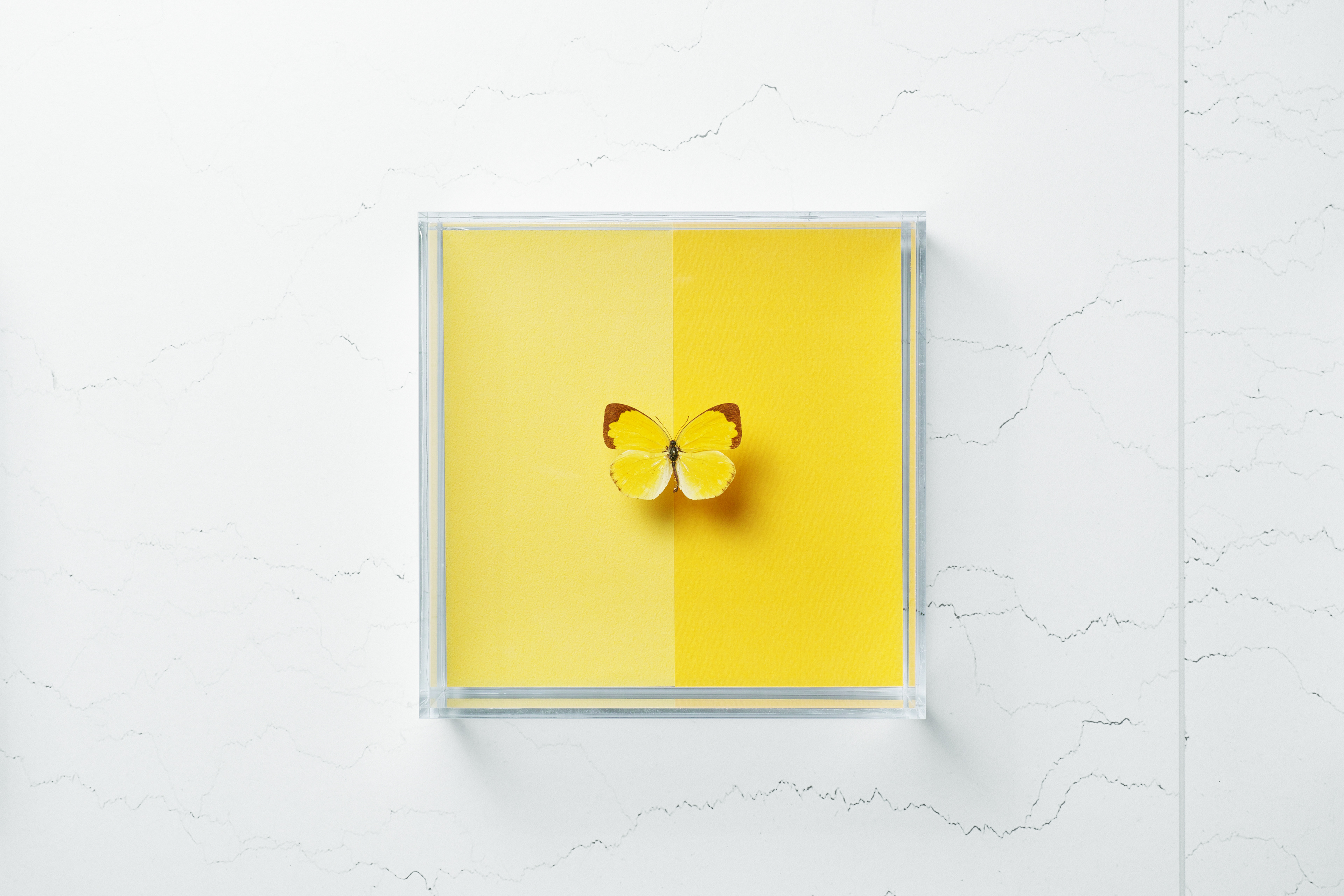 We developed a methodology called "Evolution Thinking", that educates the texture of design.
Even in the design of artifacts, things are constantly evolving and culling from advances in technology, human interests and the changing context of the times. The development of species on the premise of diversity closely resembles the form of evolution of living things. The invention constantly seeks to supplement the evolution of people. Faster, more comfortable, is not the design that has been advanced by such philosophy is the instinct of mankind who is going to evolve? If the evolution and design of living organisms are sufficiently similar, it should make it easier for innovation by understanding the process well and applying it to inventions and designs. Evolutionary thinking is a method for creative education born to learn the way of thinking from the nature.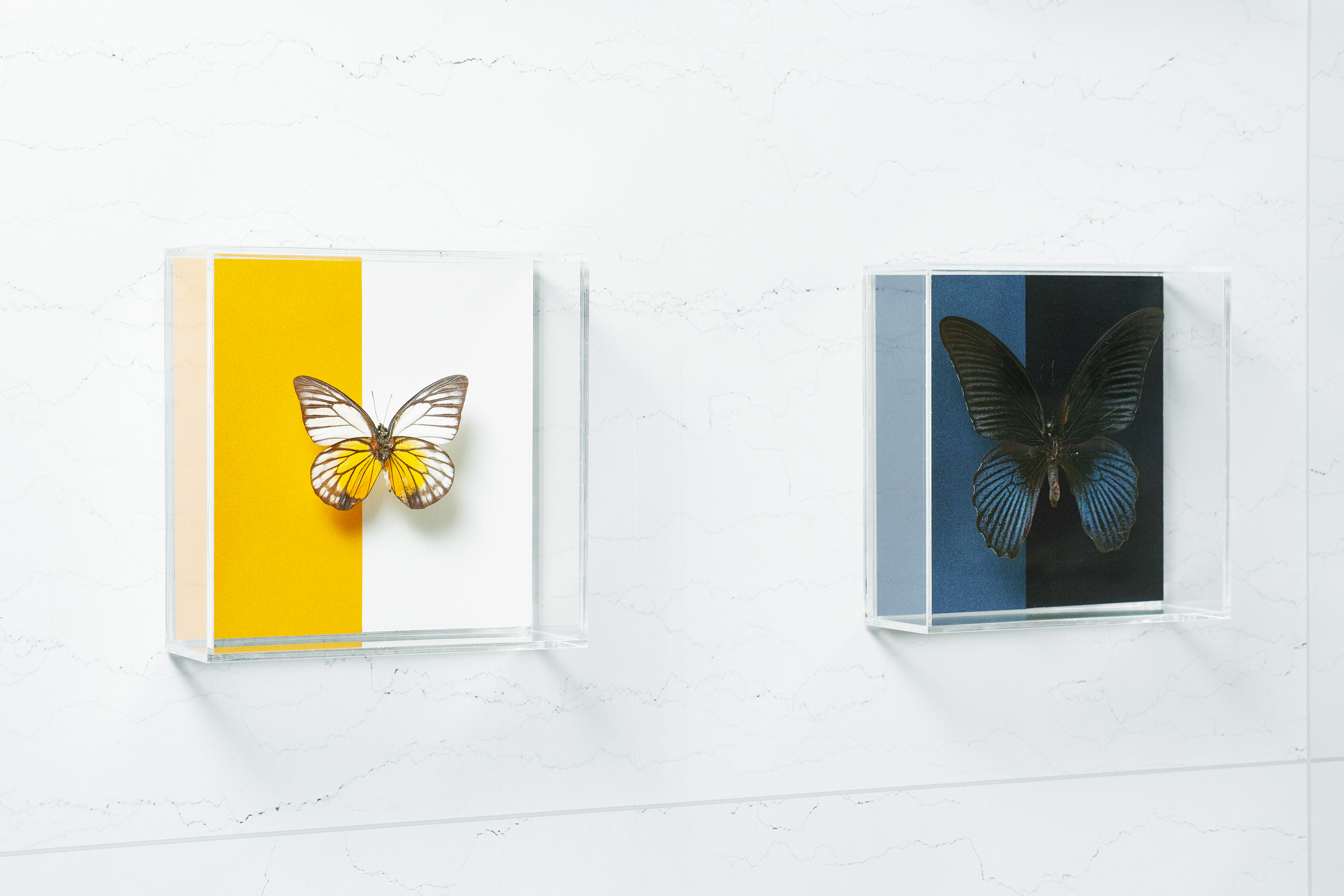 Adapting to the environment by altering color and texture.
In the course of adapting to their environment, living creatures have developed a huge variety of textures and colors.​​​​​​​ For butterflies, fish, birds, flowers, and all other kinds of living things, the ultimate choice of what texture to adopt in order to adjust to the environment is linked directly to survival. Altering one's color and textural qualities is one of the simplest methods of environmental adaptation.
An observational experiment comparing the wings of actual butterflies with papers that have similar textures to those wings. Butterflies have numerous variations in wing texture and color. They have survived by adjusting their form to the environment: those that live in close proximity to predators imitate objects such as dry leaves while those that live in environments of relative safety take on alluringly contrasted forms in order to gain the advantage in procreation. As a result, butterflies have developed a variety of features, from the leaf-like wings of  the oak leaf butterfly to the beautiful  structural colors of the morpho butterfly.
In commercial design, too, altering texture is the most simple and effective survival strategy. In the field of packaging design for example, in order to survive in cutthroat markets, designers use a variety of papers to blend in or stand out—everything from hologram paper closely akin to the wings of a morpho butterfly to rough-textured paper similar to dry leaves. Surely we could say that the phenomenon observed in butterflies is a type of evolutional graphic design. We tried to find papers resembling butterflies' wings as closely as possible in order to undertake comparisons. The comparisons reveal that in terms of both the depth of the jet-black shade and the stereoscopic effect of the hologram, the papers are clearly eclipsed by the butterflies' wings, the product of two million years of evolution.​​​​​​​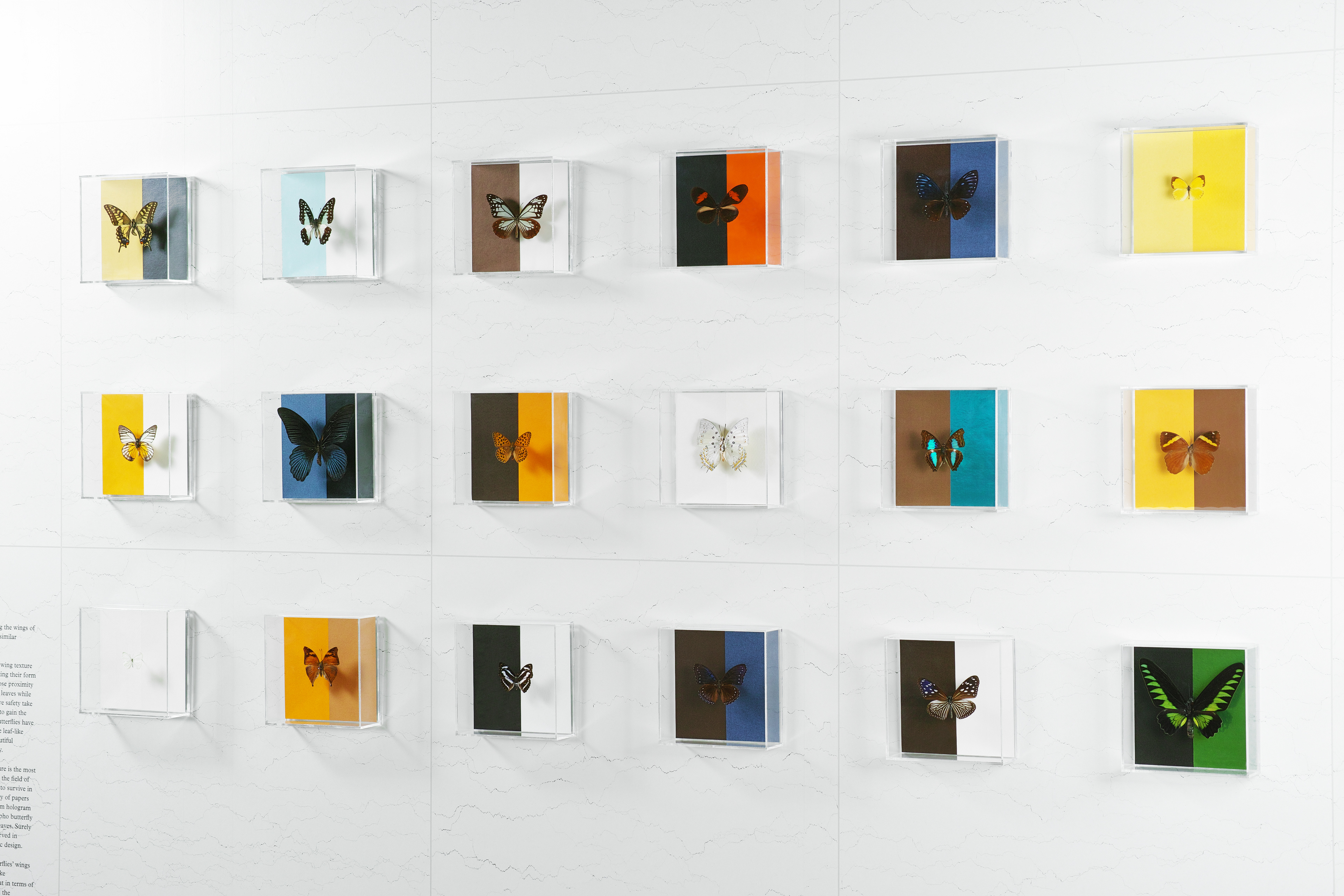 "Evolution Thinking" is taking off from Japan as a theory beyond Design Thinking–and it has only just begun.
The evolutionary thought that started with a small experimental exhibition is gradually spreading while being gradually supported by proponents such as the automobile company, the real estate company of the largest scale in Japan and the manager of the global company of apparel. (Reference article: Harvard Business review etc) We will continue to provide evolutionary thinking as a program to nurture innovators that change society. In order to realize a sustainable symbiotic society, do not you think that there is at least one innovator aiming for social change in at least one in 2000 people? While it is said that by 2050 the population will exceed 10 billion, one in 2000 is one in five million. To that end, we believe that a superior educational program that truly brings up a number of people who realize social change is necessary.
EVOLUTION THINKING: Texture
Ginza, Tokyo, Japan
NOSIGNER (Eisuke Tachikawa)
Graphic Design
NOSIGNER (Eisuke Tachikawa, Toshiyuki Nakaie)
Space Design
NOSIGNER (Eisuke Tachikawa, Sui Fujikawa)
Client
GINZA GRAPHIC GALLERY
Photo