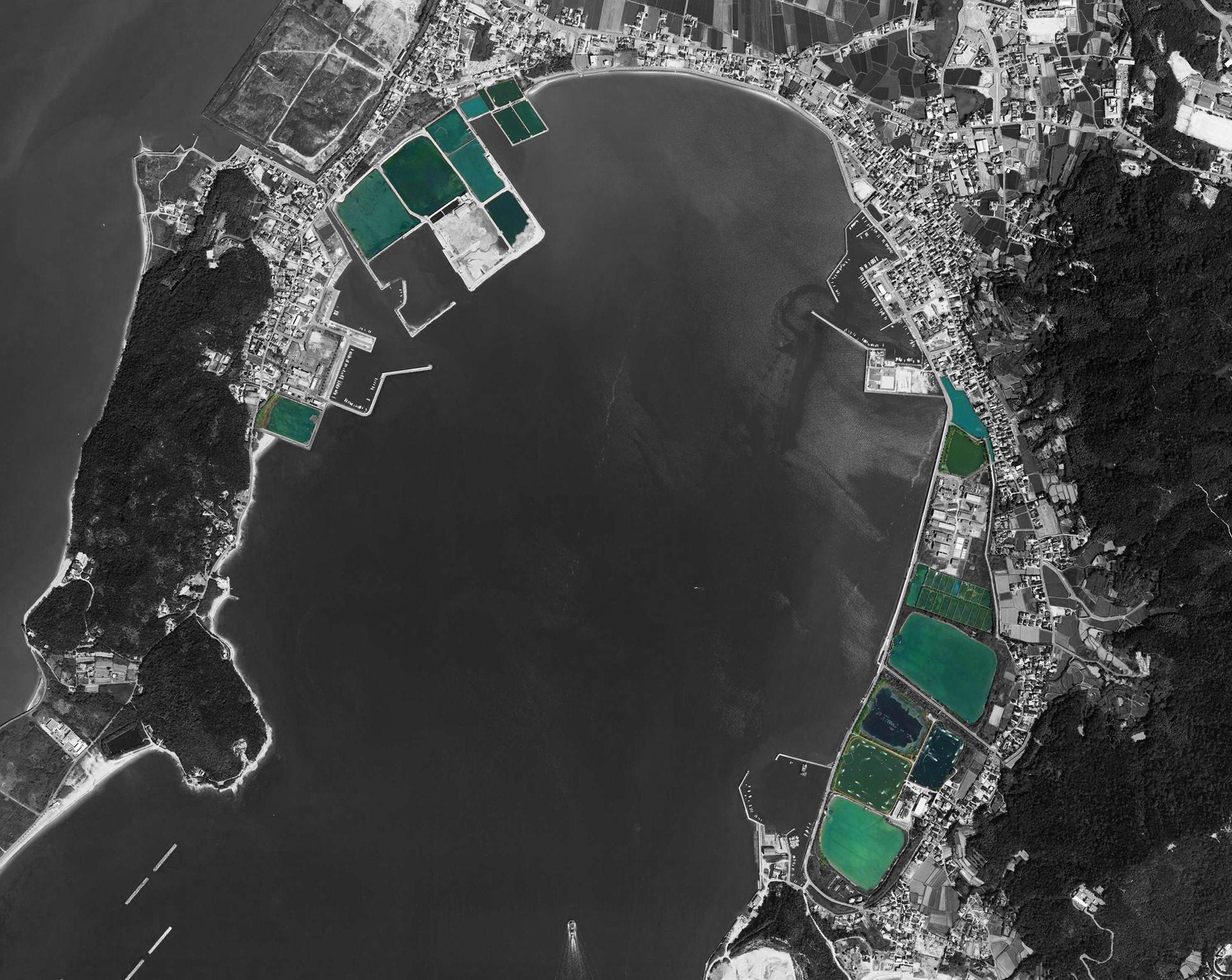 By what method could we revitalize small town "Aio", to show its shrimp farming techniques used worldwide today.
世界の養殖海老の技術を確立したのは、日本人にも名前が読めない小さな町「秋穂」だった。
​​​​​​​
Aio town, Yamaguchi City is not so well known, whose name is hard to read even by the people of Japan. It is the original place where shrimp farming methods was originally established that was adopted into the world, including techniques used for the world famous Black Tiger Shrimp. In this town, although high-class prawn aquaculture continues, the local industry has declined, with a share taken by other late-growing localities and imported prawns from other countries.
We received consultation from Yamaguchi City in 2016, where we began this project focusing of local activities. We decided to act on local revitalization by using prawn aquaculture as an opening.
山口市秋穂町。「あいお」という日本人でも名前が読みづらい漢字のこの街が、ブラックタイガーなどを含めた、世界中でいま取り入れられている海老の養殖法を確立した場所であることはあまり知られていません。この町では今でもひっそりと高級車海老養殖が続けられていますが、後発の他産地や他国の輸入海老にシェアを取られ、地場産業は衰退してしまっています。
2016年に山口市から相談を受けて地域活性のコンサルティングに入ることになり、車海老養殖を切り口にして、なんとか地域を活性化することを目指したいと考えていました。
​​​​​​​
​​​​​​​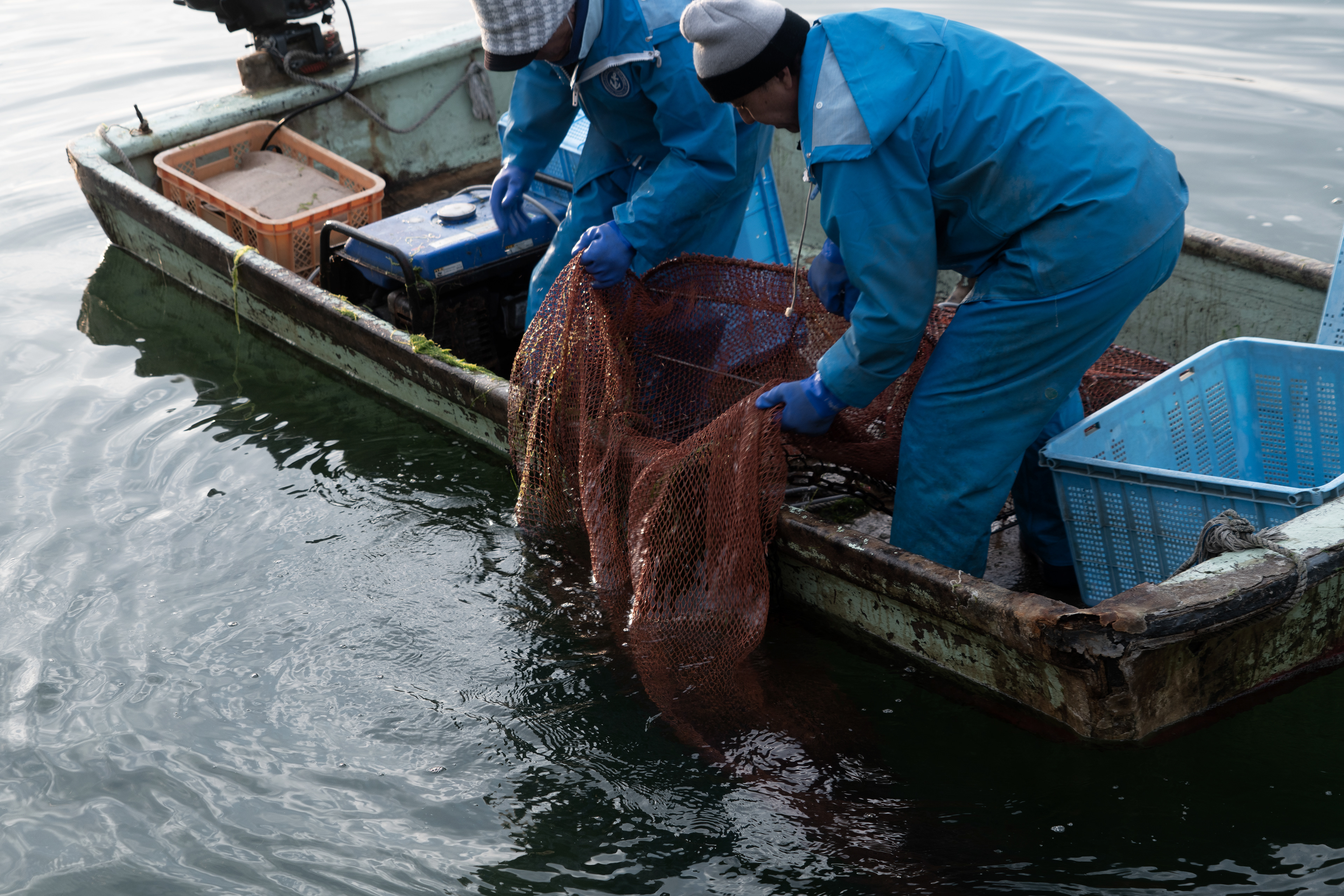 We established a high quality prawn brand to help revitalize the region.
最高品質の車海老ブランドを確立し、養殖の世界発祥地であることを伝え、地域を活性化する。
​​​​​​​
Even though nearly 100 years have passed since the birth of prawn aquaculture, there were no such shrimp cooperative associations. However, the conference was launched in 2016, and a system for aquaculture companies to collaborate was established for the first time. Tachikawa was on stage as a guest speaker for the first meeting, where two years later we collaborated with Yamaguchi City to design a place for dialogue with shrimp dealers, working on establishing the brand "Aioebi", while organizing regional issues of this location.
1. Have name of the city remembered by the brand name "Aioebi".
2. Create a regional industry as a brand of cultured prawns.
3. Develop local gourmets where local inns and shops can easily participate.
4. Revive summer shrimp farming and create local industries.
5. Aim for certification authentication of sustainable aquaculture.
6. To not only be known as the birthplace of aquaculture technology, but also uncover from the history the possibility of being the origin of shrimp farming.
7. Efforts will be made to revive natural shrimp farming, including the revetment environment.
8. Sponsor prawns as lunch for the local children.
The eight items above are proposed as a strategy, where each project is underway while becoming a working group, under the facilitation of Tachikawa.
車海老養殖が発祥して以来100年近い月日が経っているにもかかわらず、この場所にはえびの協同組合がありませんでした。しかしちょうどタイミングよく2016年に協議会が発足し、初めて養殖業者同士が協調する体制ができたので、太刀川が協議会初のMTGにゲストとして登壇し、その後2年にわたって山口市と協業してえび業者の対話の場を設計し、この場所の地域課題を整理しながら「あいおえび」という養殖ブランドの確立に取り組んでいます。
1.「あいおえび」というブランド名で街の名前を覚えてもらう。
3.地域の旅館やお店が参画しやすいご当地グルメを開発する。
4.弱かった夏の海老養殖を復活させ、地域産業をつくる。
6.養殖技術発祥の地であるだけでなく、蓄養の発祥である可能性を歴史から紐解いていく。
7.護岸の環境など、天然エビを復活させるための取り組みを行う。
の8つの項目を戦略として提案し、太刀川のファシリテーションの元でワーキンググループになりながらそれぞれのプロジェクトが進んでいます。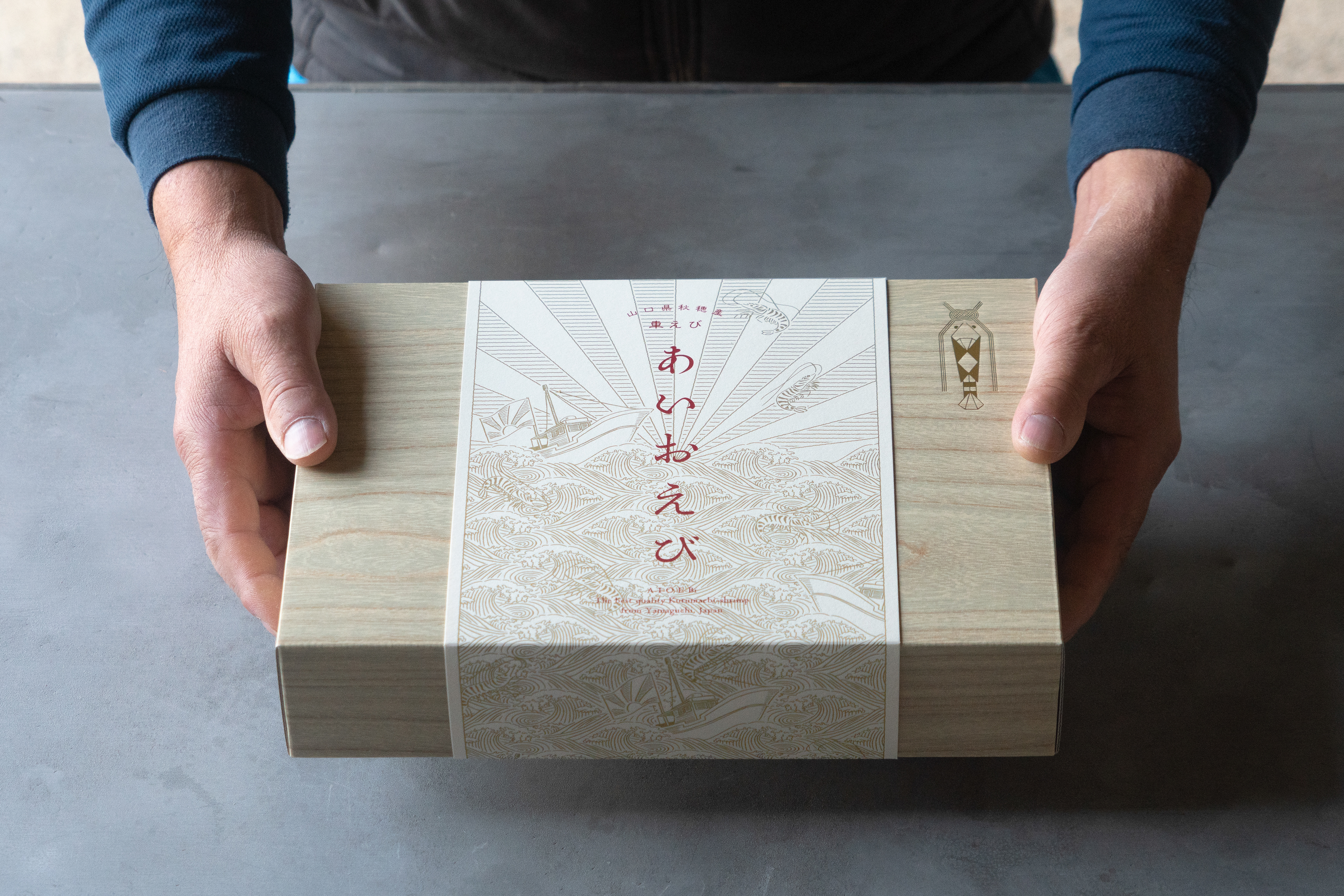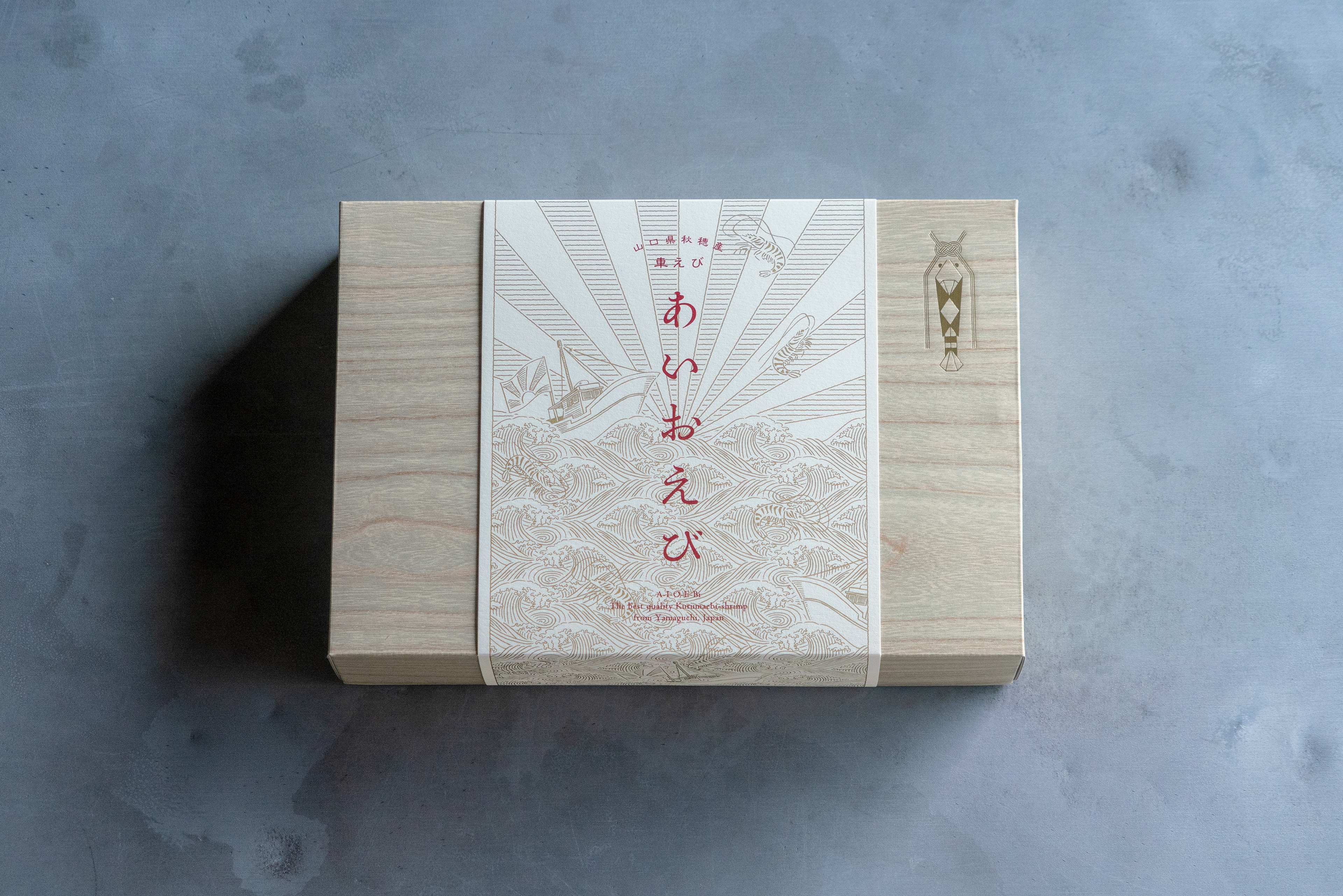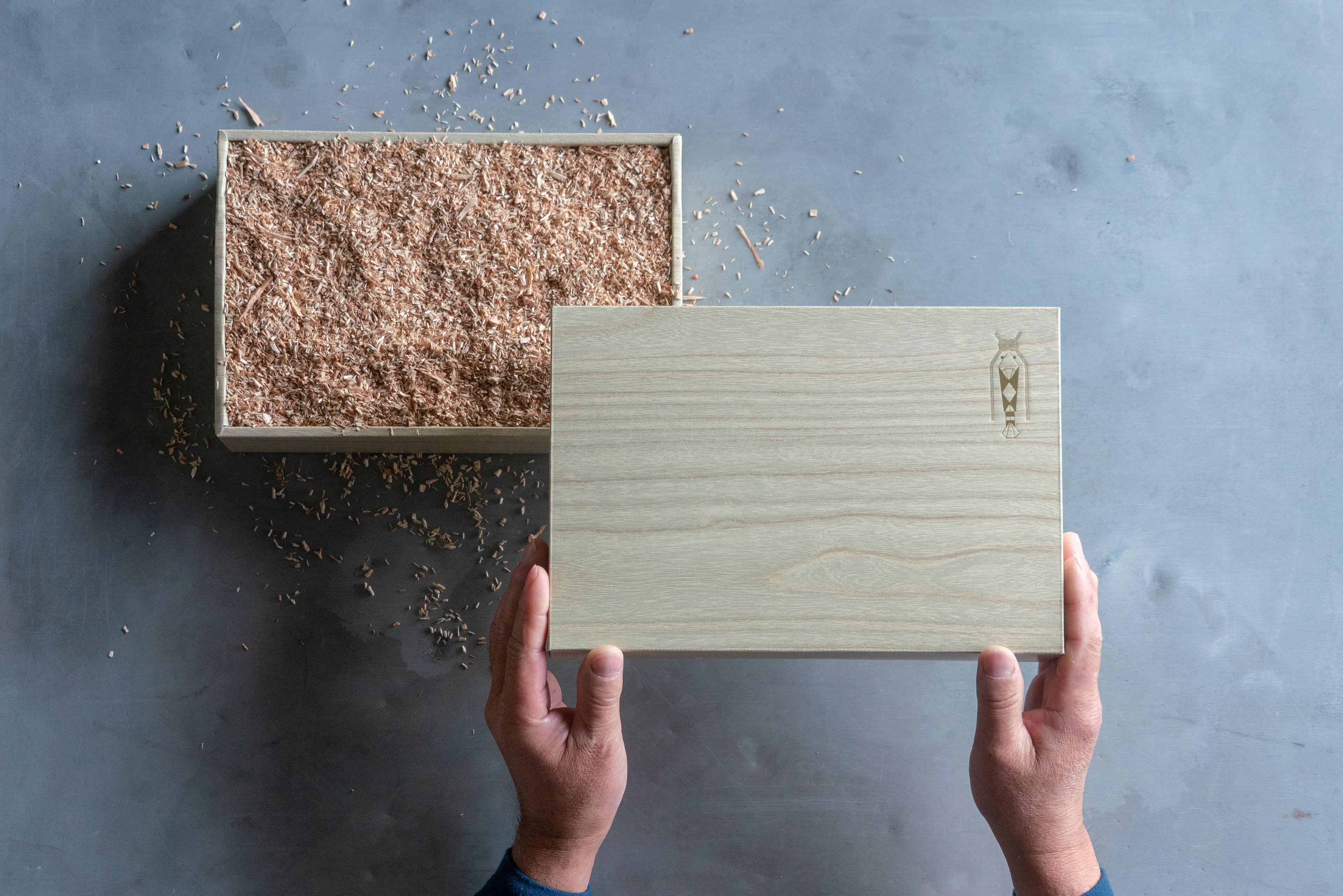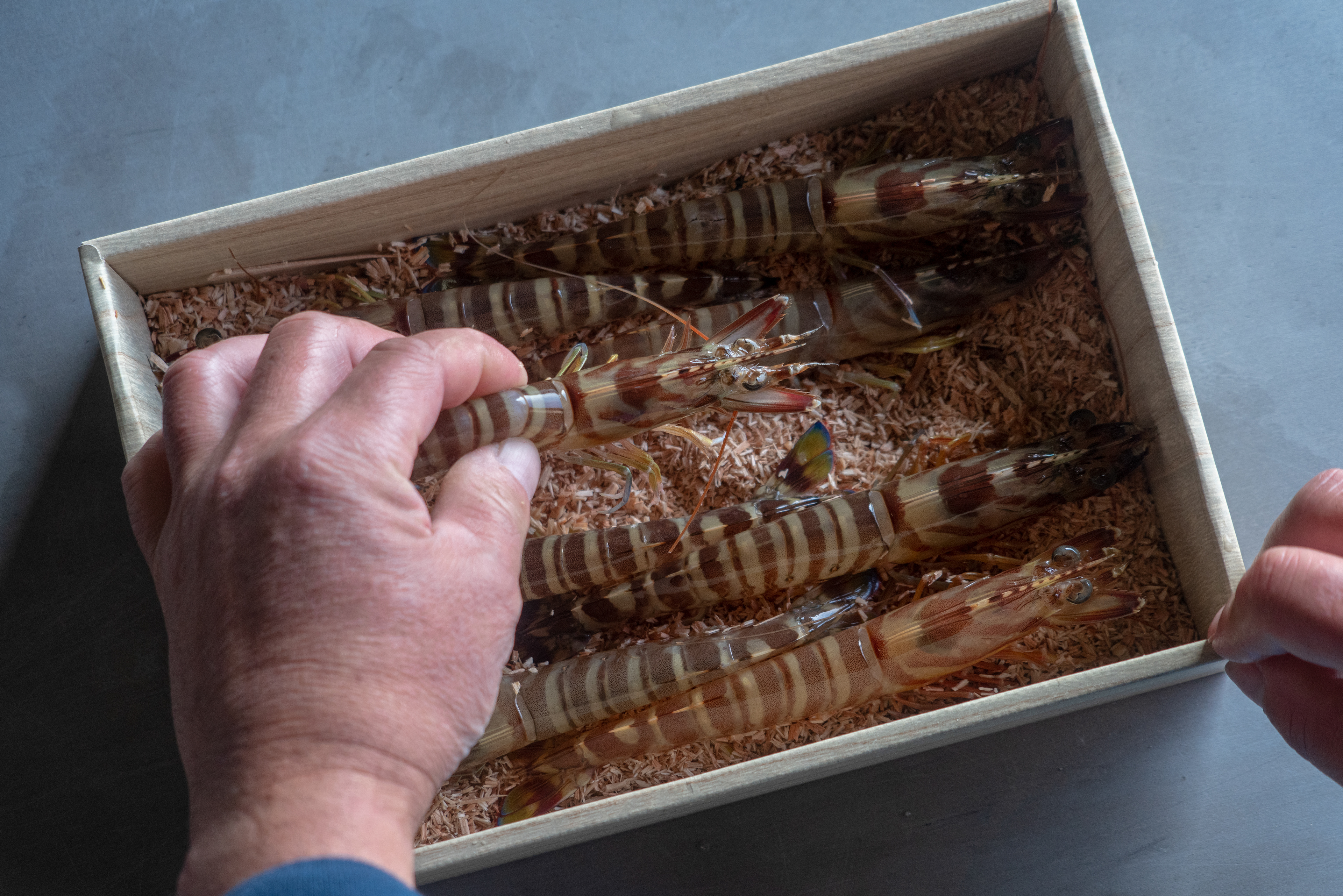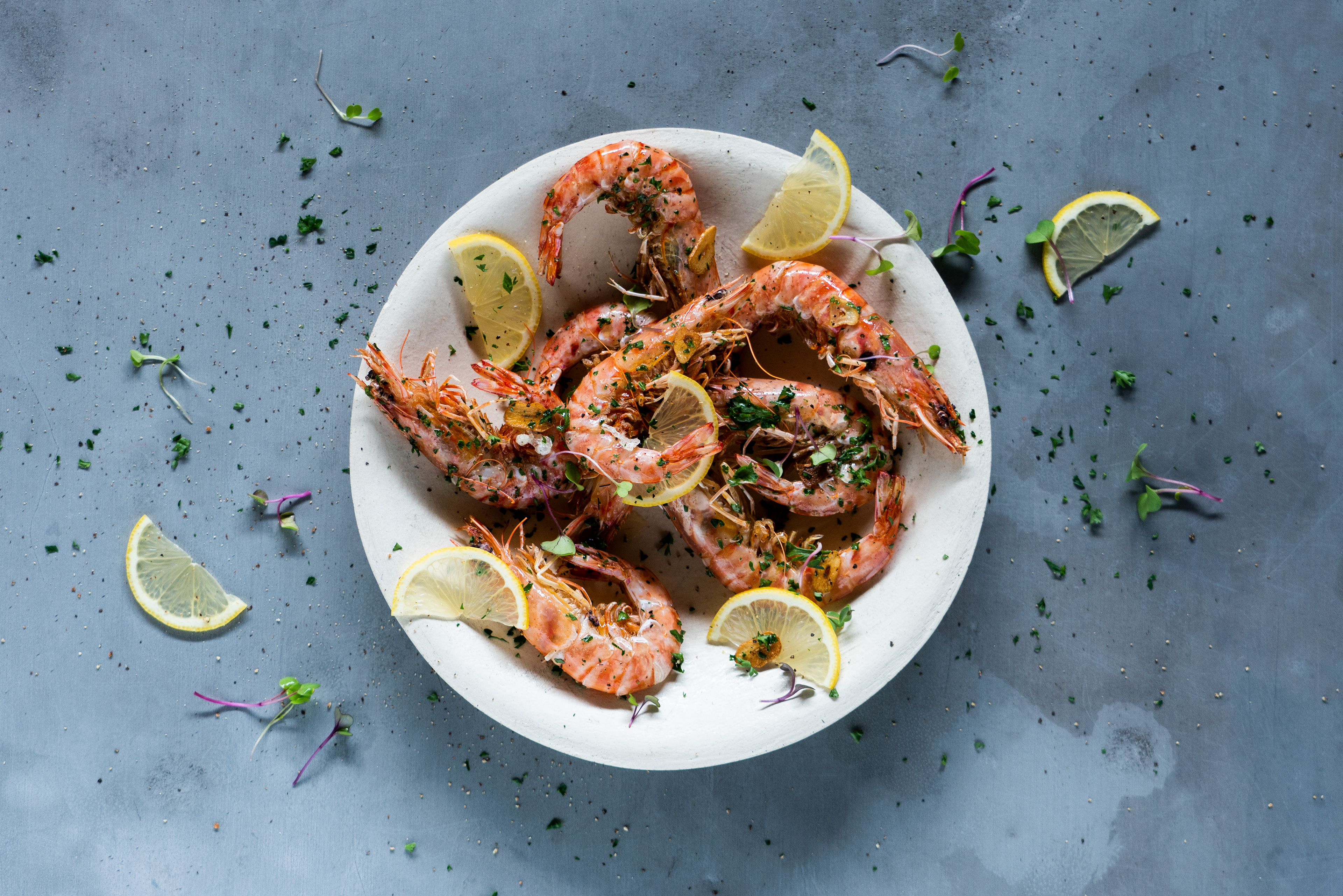 Under such circumstances, the basic branding tools such as the packaging of live prawns for gifts, POP, carps, leaflets, etc. was completed. Until now, each aquaculture company used a separate box, but in order to make use of the scale merit, we proposed a box designed to be compatible with various types of occasions, simply by changing the sleeve. The packaging is packed full of live prawns. To keep them alive, sawdust is placed within the box, where illustrations of the package express the glamorousness of Japanese packaging.
そんな中で、まずはギフト用の活き車海老のパッケージ、POP、のぼり、リーフレットなどの基本的なブランディングツールが完成しました。今までは養殖業者それぞれが別の箱を使っていましたが、スケールメリットを活かすために業者共通の箱を提案し、スリーブを掛け変えれば様々な種類に対応できる設計にしています。パッケージの中には生きた車海老が詰まっています。海老を殺さないように、おがくずが敷いてあるのが特徴。パッケージのイラストでは、日本のパッケージらしい華やかさを表現しています。
​​​​​​​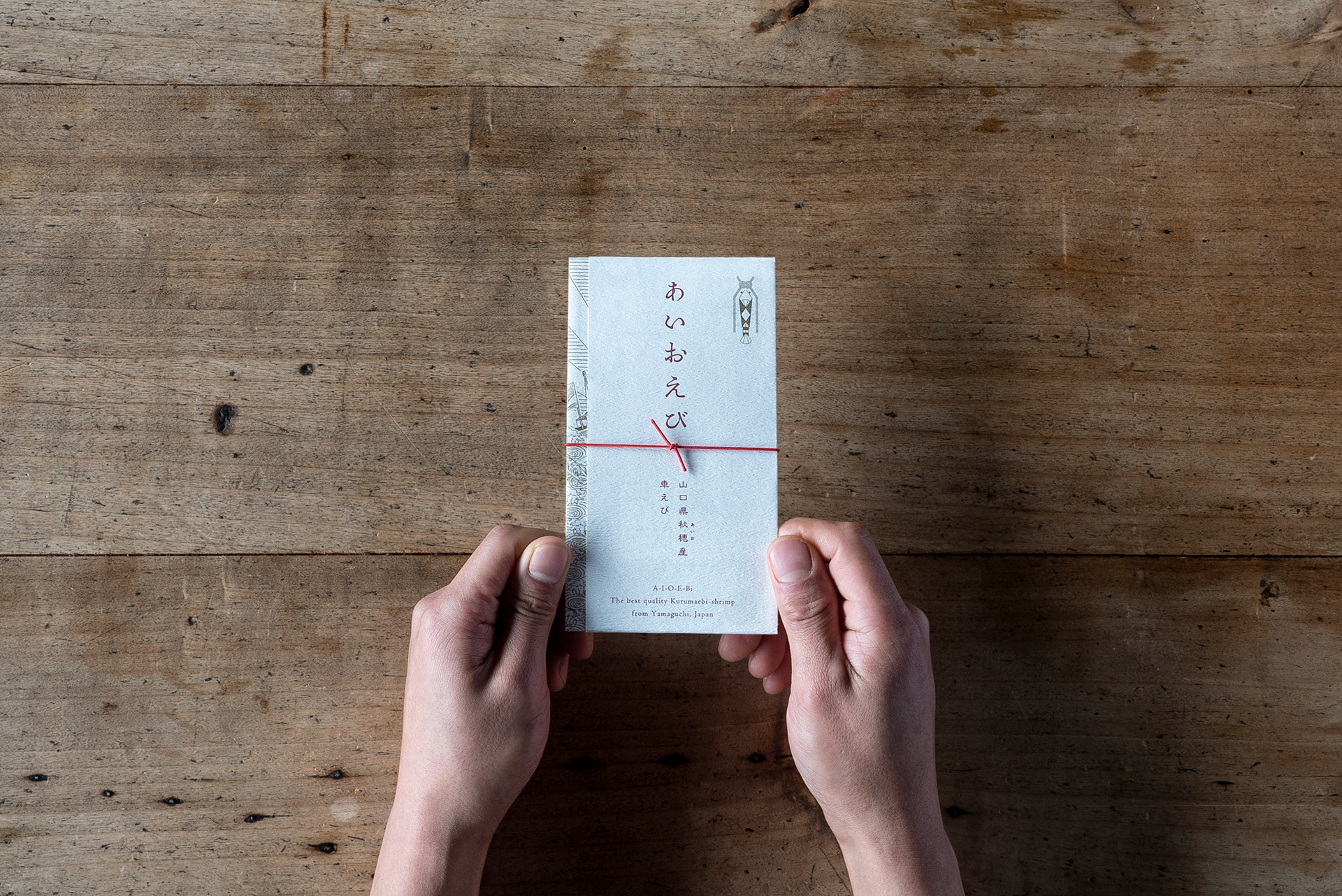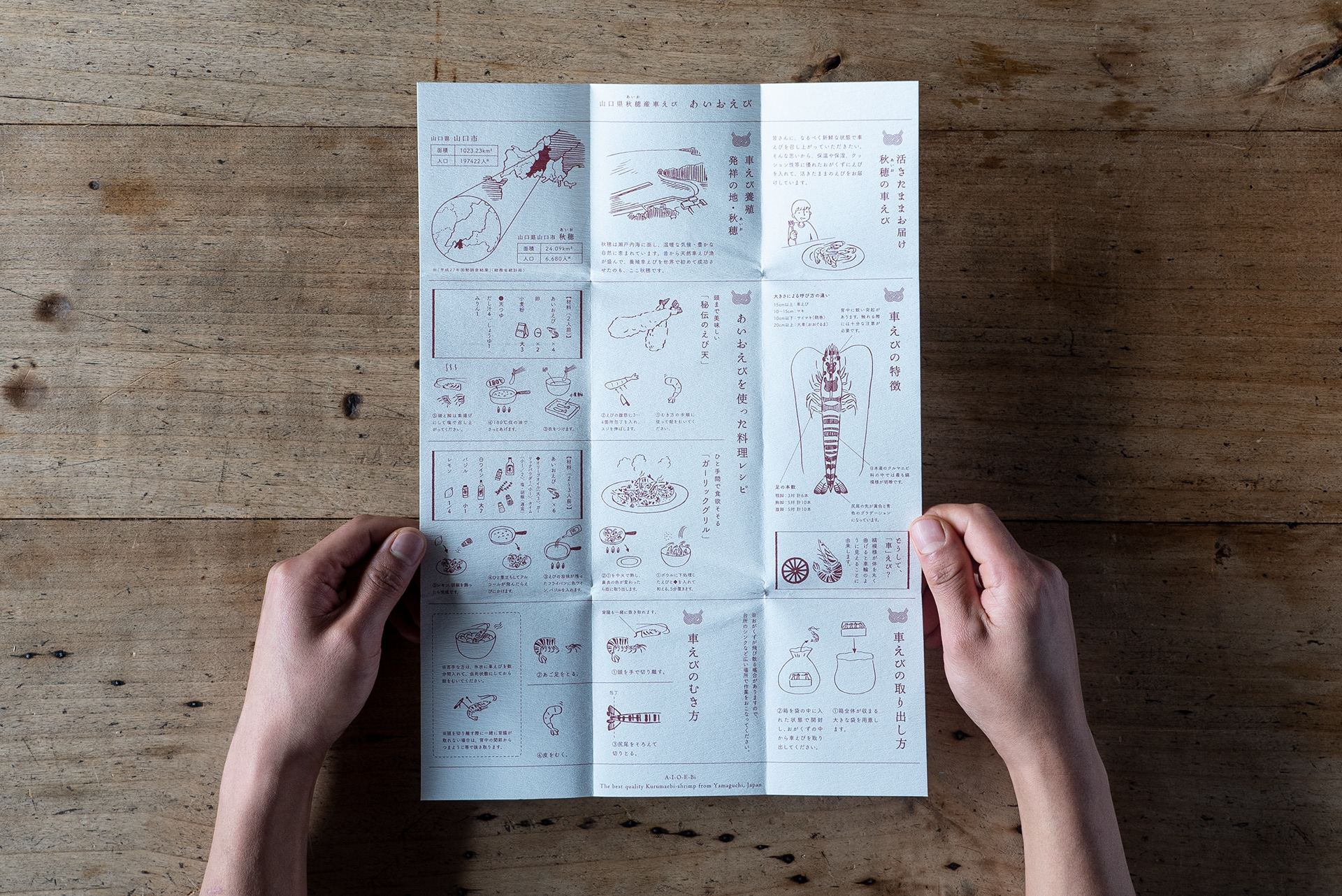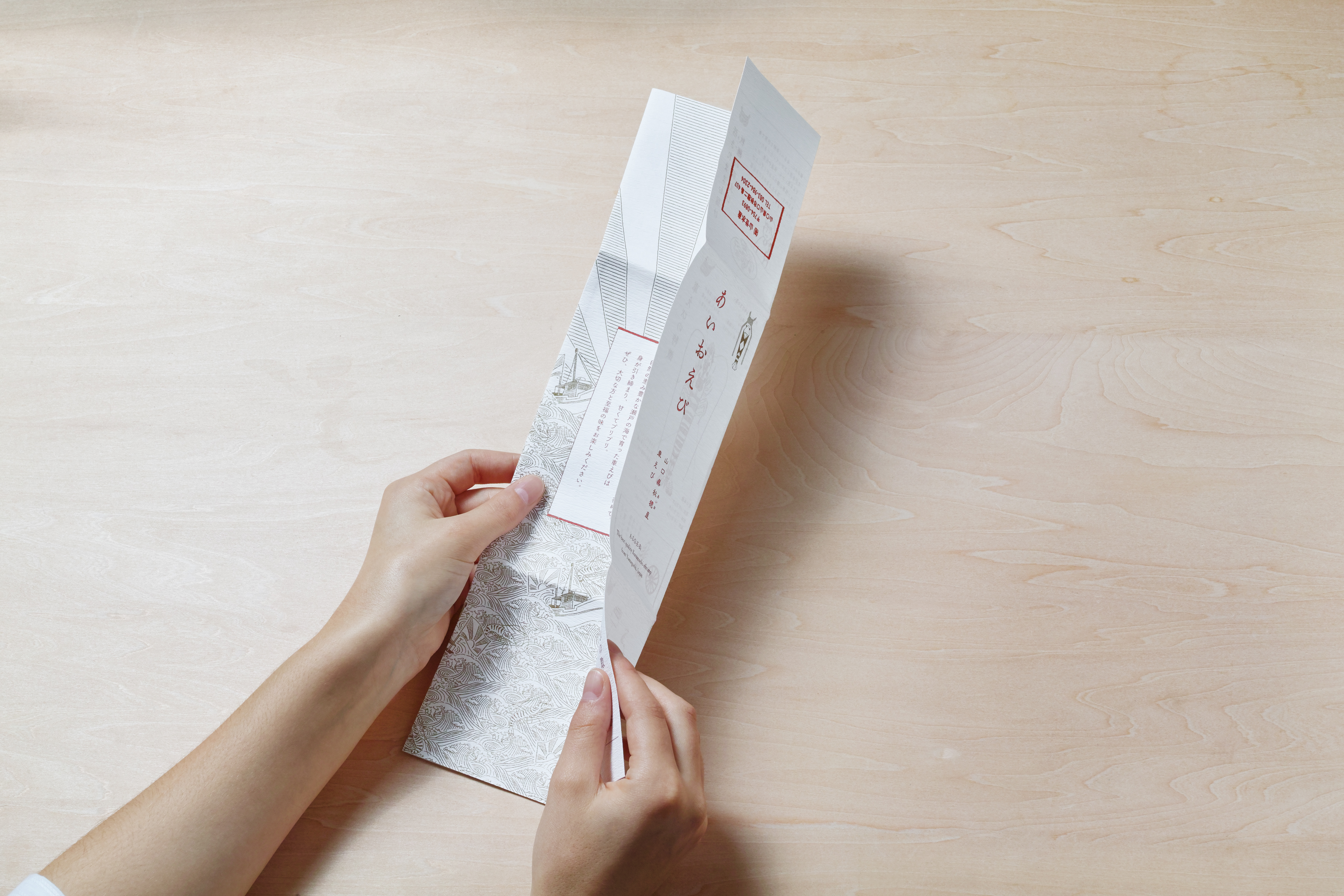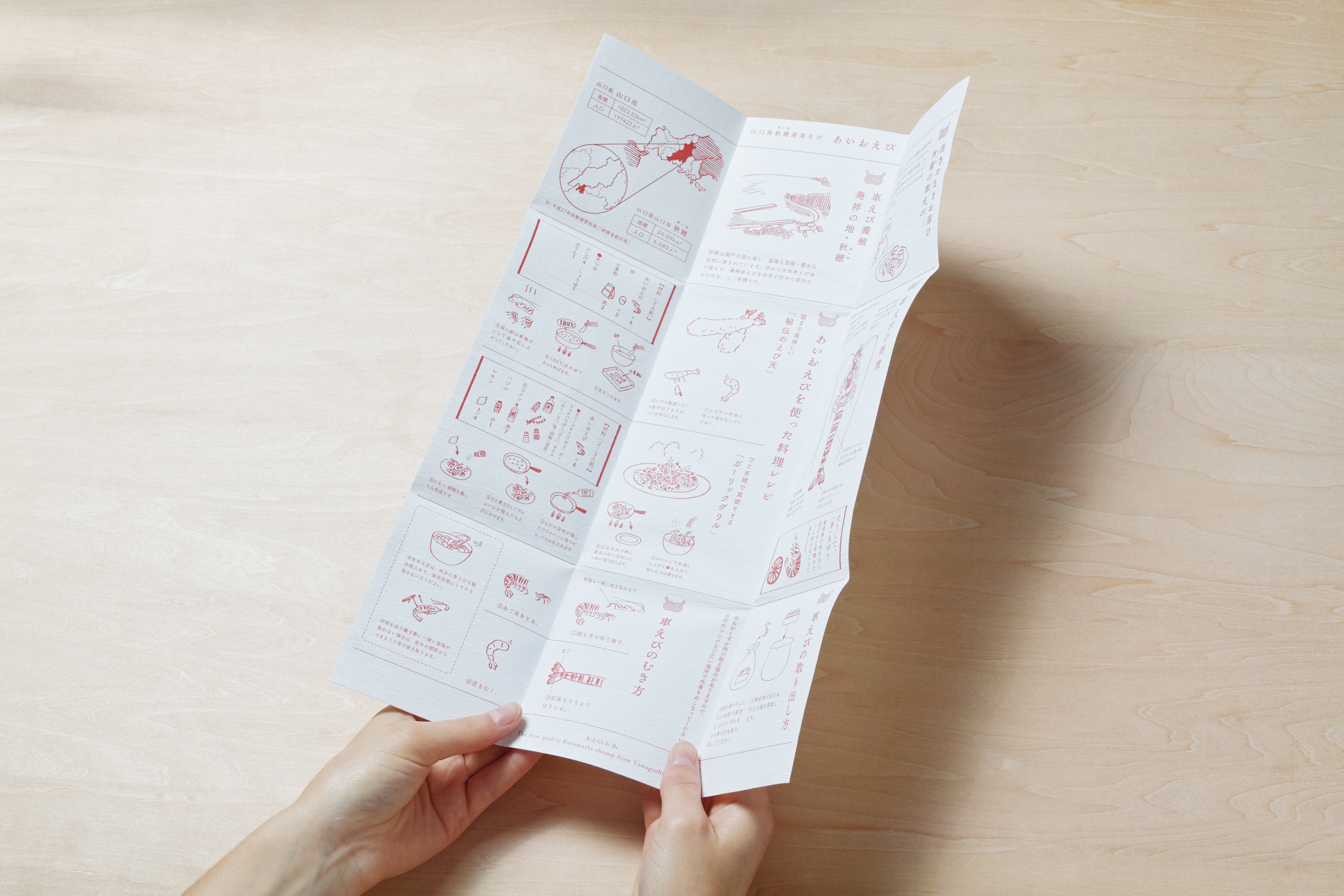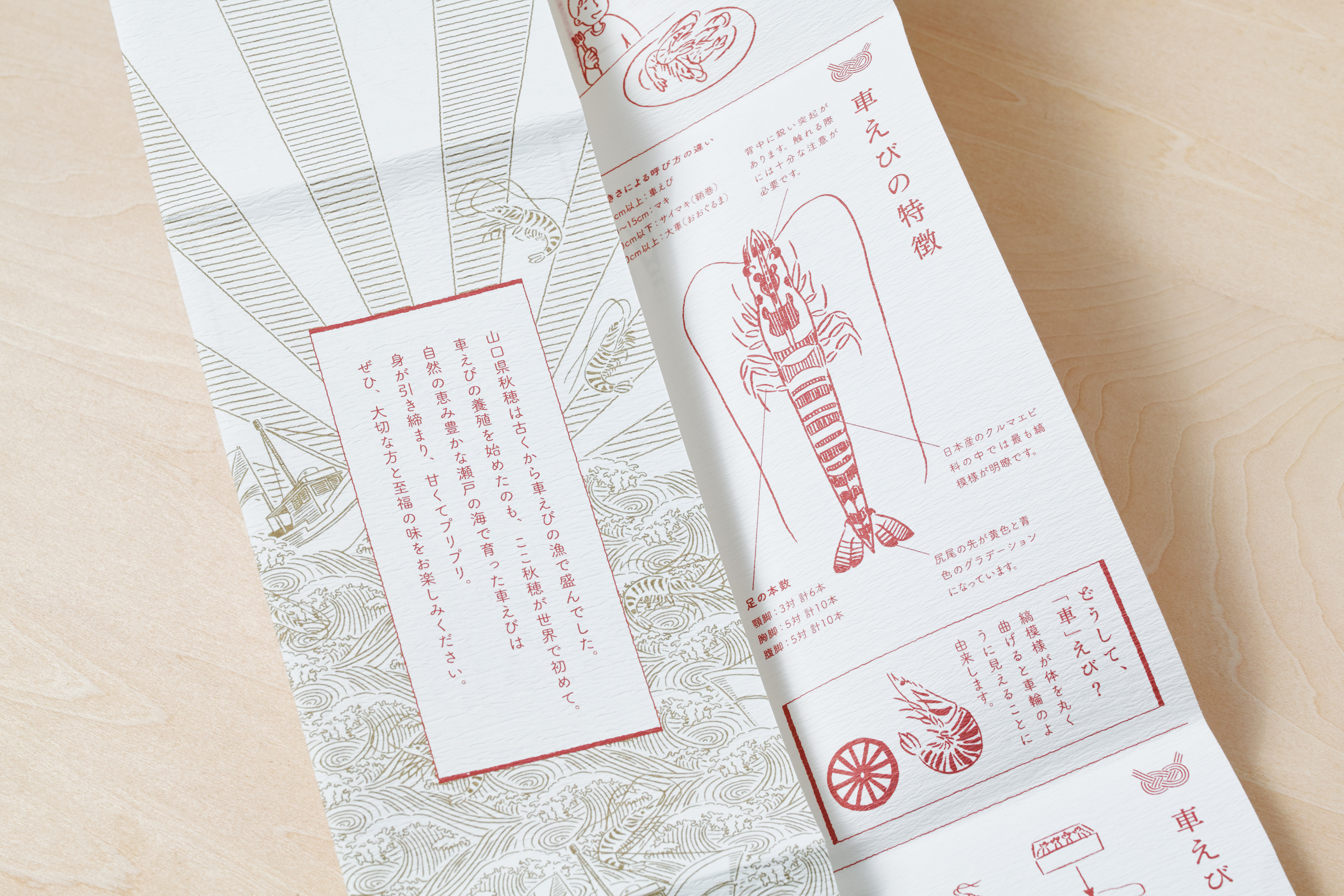 The brand is established as "Aioebi", bringing exposure to the region, increasing loyal customers.
「あいおえび」のブランドが確立。地域での知名度が上がってきており、リピーターが増えている。
​​​​​​​
Two years have passed, and in parallel with the regional change and success, recognition as a regional brand has gradually been recognized, where we hear repeaters have increased. 
It is now enjoyed by people all over the country as a popular "Furusato Nozei", which is a tax reduction process for tax payers who decide to donate to local municipalities in Japan in order to receive such goods throughout the year.
Possibilities have arisen for the summer shrimp aquaculture from the forum of the council, and trial productions of local gourmets have started. In addition, the "Ebi Harvest World Championship", which was a regional festival, will now be renamed "AIOEBI Harvest World Championship", which opens opportunities to expose AIOEBI from within Japan to abroad. To change a region is hard work, and while we feel it is still a long way to establish a well-known brand, it is obvious that the people in the area are gradually seeing a brighter future.
2018年。いま地域と並走して2年が経過し、地域ブランドとしての認知が徐々に生まれてきており、リピーターが増えたという嬉しい個をいただくようになりました。人気のふるさと納税対象品として全国の人にも楽しんでいただいています。
協議会の対話の場からも夏海老の養殖にも可能性が出てきたし、ご当地グルメの試作が始まっています。また、地域の祭りであった「えび刈り世界選手権」も「あいおえび刈り世界選手権」に名前を変え、日本国内外に向けて一丸となって「あいおえび」を発信する準備が整ってきています。地域を変えるのは大変な仕事であり、しっかりと知名度のあるブランドにまで確立されるのはまだまだ長い道のりですが、地域の人々には徐々に明るい未来が見えてきています。
​​​​​​​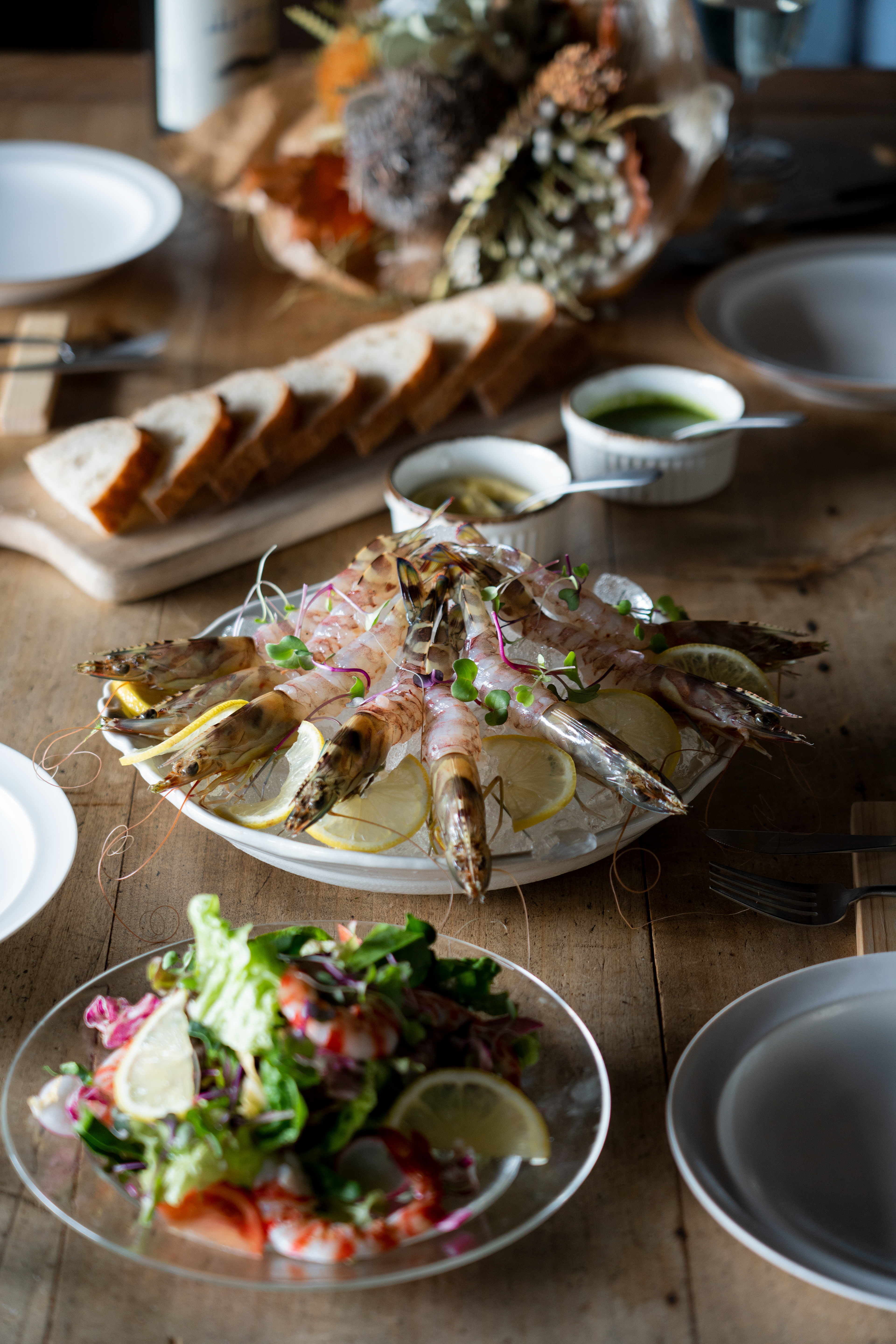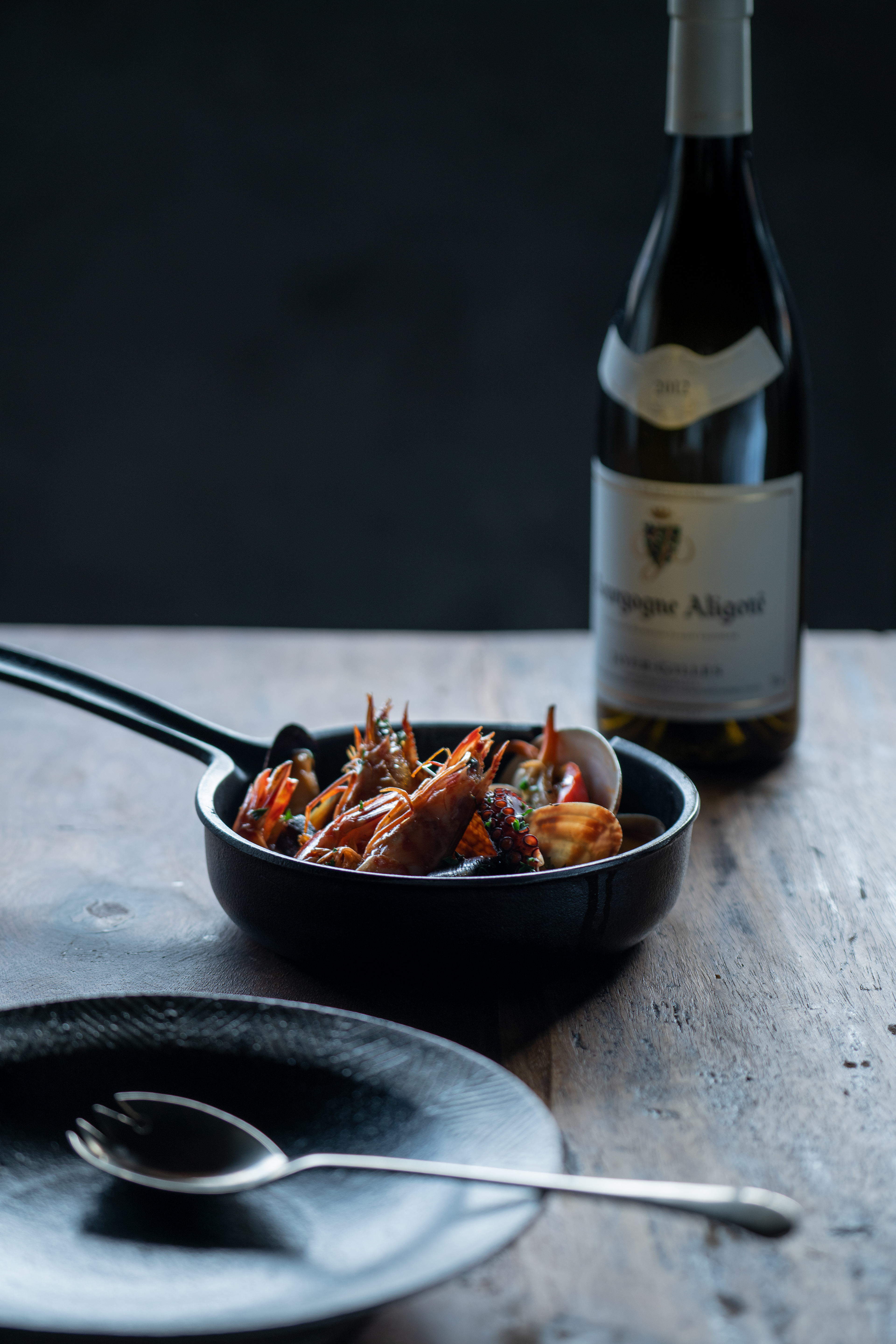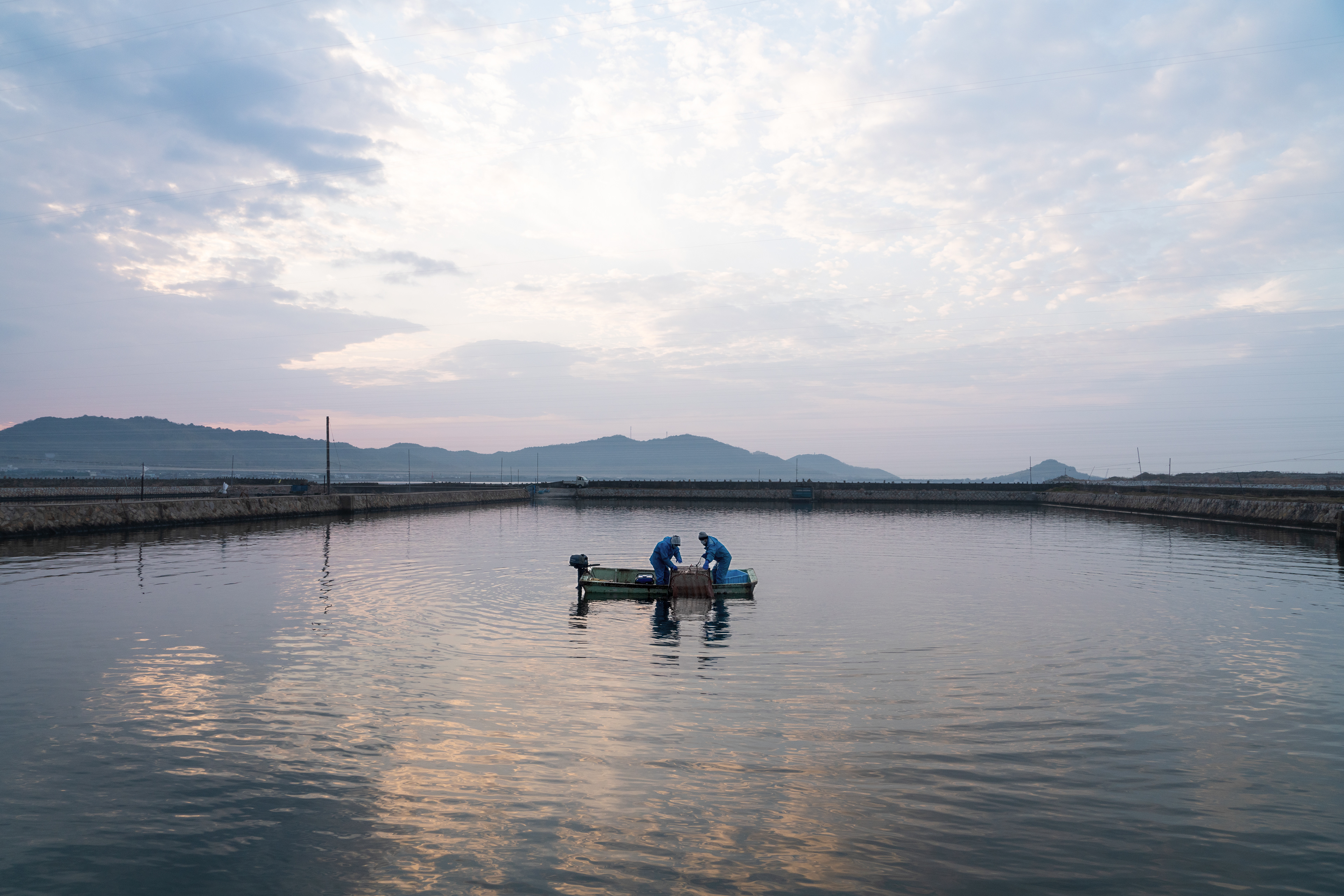 2017
NOSIGNER (Eisuke Tachikawa)
NOSIGNER (Eisuke Tachikawa, Ryota Mizusako)
NOSIGNER (Ryota Mizusako)
NOSIGNER
Social design for evolution.