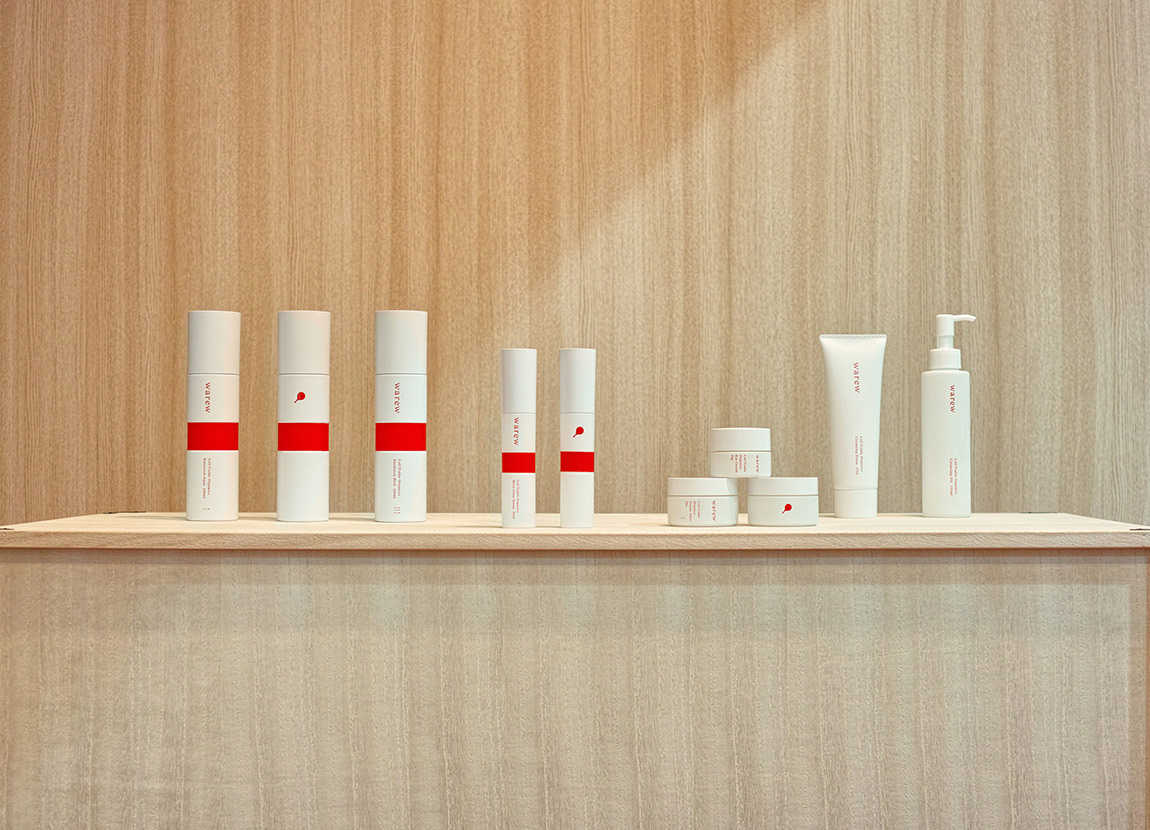 Using the power of plants, can we deliver the unique beauty of Japan to the world?
01       In Japan, plants have been used since ancient times for things such as treatment of diseases, prevention of diseases and also maintenance and improvement of health. 
They play a role in supporting a healthy lifestyle for the people today, in the form of herbal medicines. From the viewpoint of beauty and aging care, this has caught the attention worldwide. We questioned what kind of design was necessary today to deliver Japan's unique sense of beauty aesthetic utilizing the power of domestic plants for a superior skin care product, to women all over the world.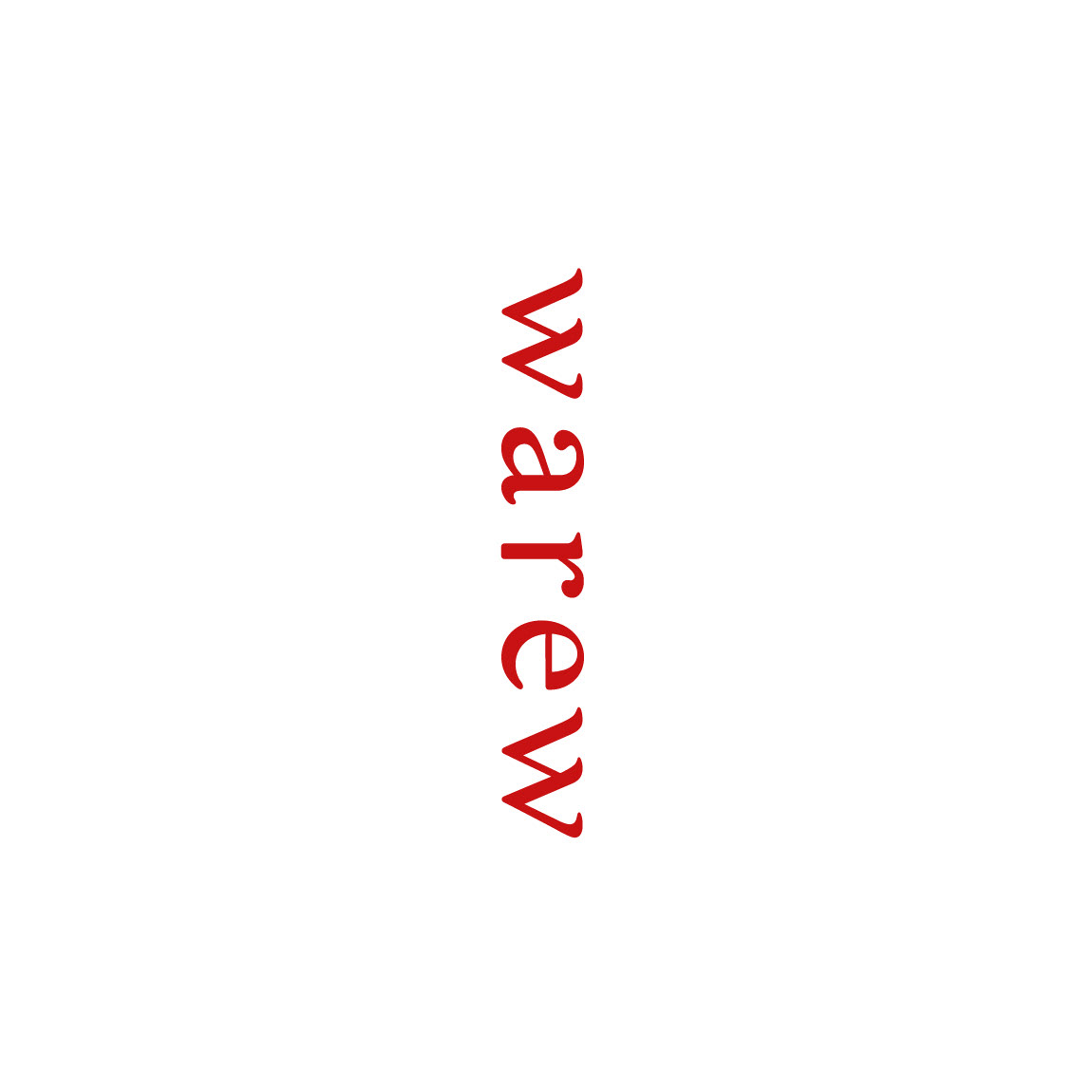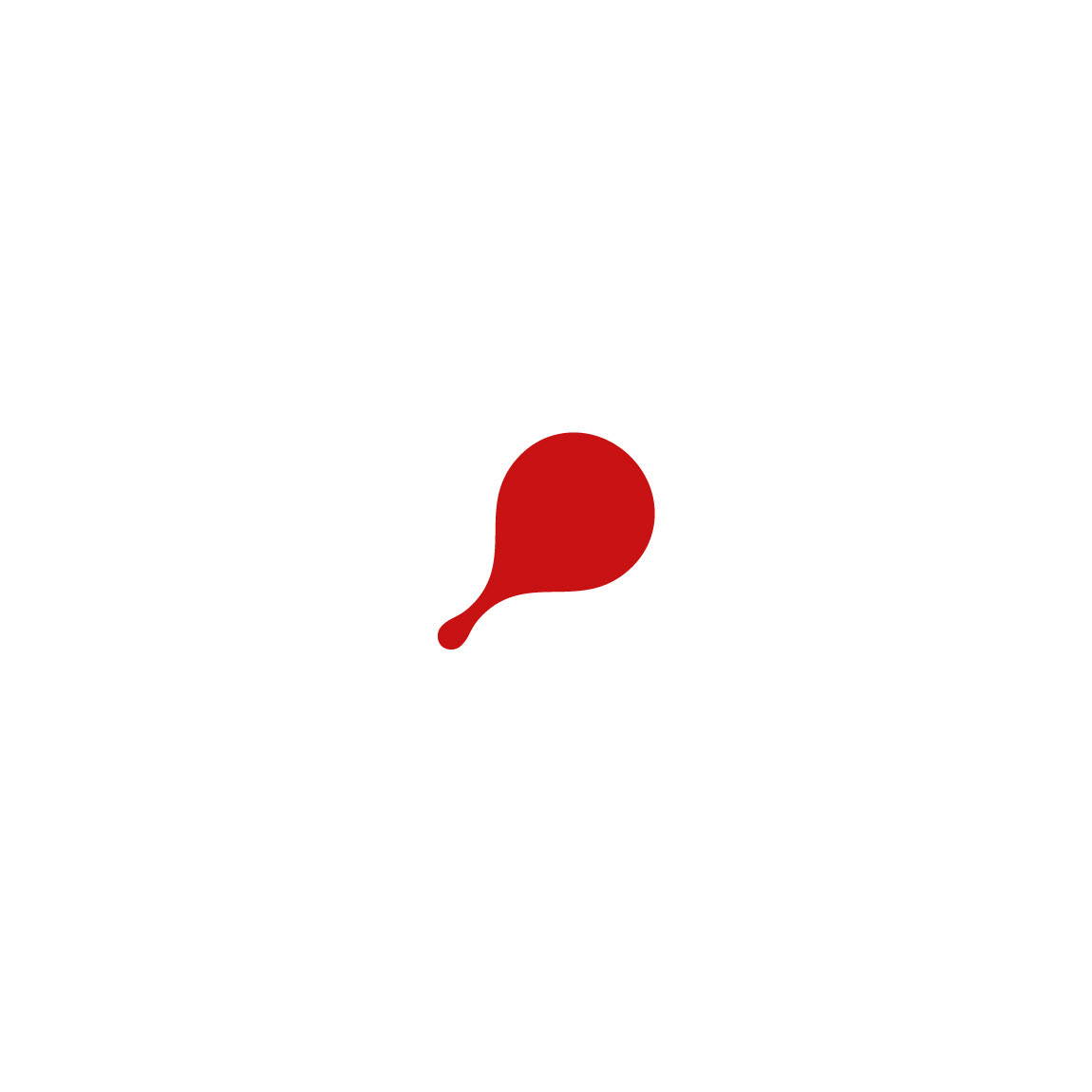 A design inspired by "shiromuku" and "shrines", embodying the beauty of Japanese women.
01       We were in charge of branding the skin care brand "warew" (和流), which means "Japanese style". 
We aimed to make a new standard in Japan, focusing on the formalities of the natural ingredients and its domestic origin. As a brand for women who masters in Japanese beauty, we chose a transparent white and a deep vermillion color as their brand color.
02      We were inspired by "shiromuku" (a traditional pure white) and its roots of "shrines", that is a symbol of Japanese women's beauty.
In addition, the symbol that expresses the essence of the "Hinomaru" (circle of the sun in the Japanese flag), made to look like a hand mirror that is a tool symbolizing women's beauty. The glass bottle was inspired by the appearance of a Japanese woman standing, where the band is wrapped at the center of the product. By using this band, a natural and elegant skin care product can be produced, where we aimed for the bottle design that makes you feel beautiful from within, which connects to the philosophy of warew.
01        国産と天然由来の成分にこだわり、日本の新しいスタンダードを目指すスキンケアブランドwarew(=和流)のブランディングを行いました。
02       日本の美を極める女性のブランドとして、日本女性の美の象徴である「白無垢」と、そのルーツとも言える「神社」からインスピレーションを得て、透き通るような純白と深い朱色をブランドカラーに据えています。
また、日の丸からエッセンスを抽出したさまを表現したシンボルマークは、女性の美を象徴する道具である「手鏡」にも見える造形になっています。日本女性の立ち姿に着想を得たガラス素材のボトルは、帯がプロダクトの重心の位置にあしらわれています。この帯を持って扱うことで自然と気品のある所作でスキンケアができ、warewのブランド哲学にもつながる、型を通じて内面から美しくなるデザインになっています。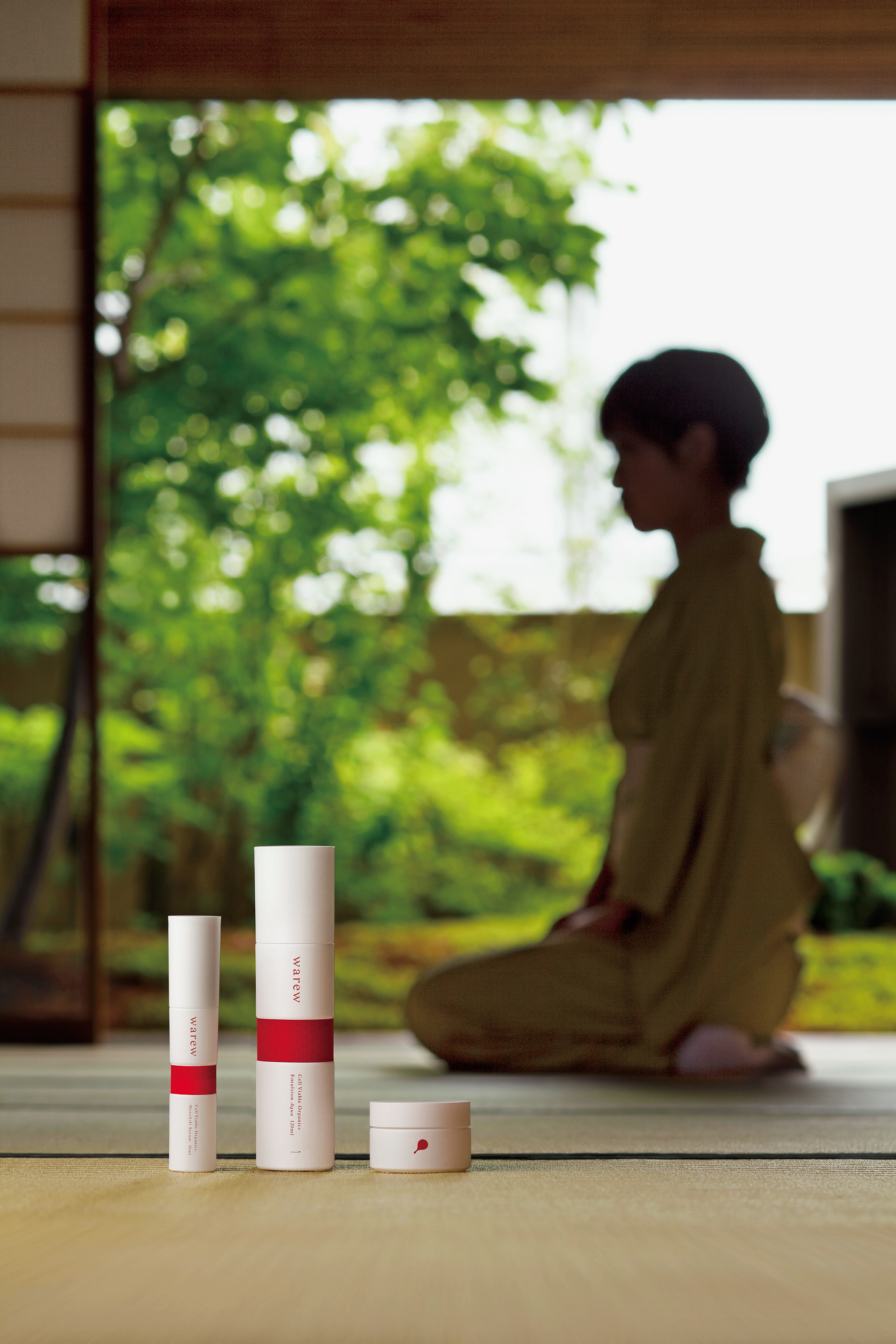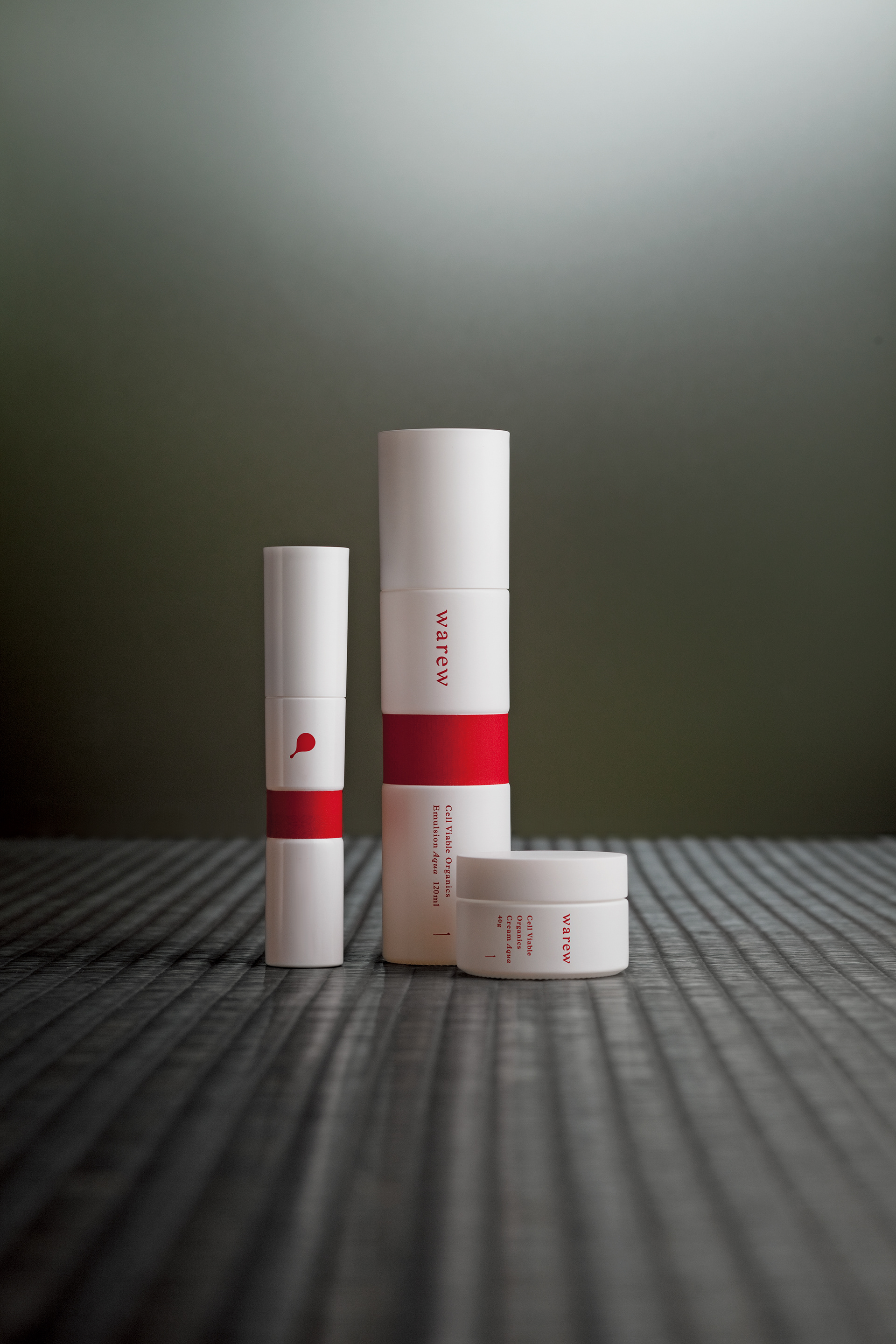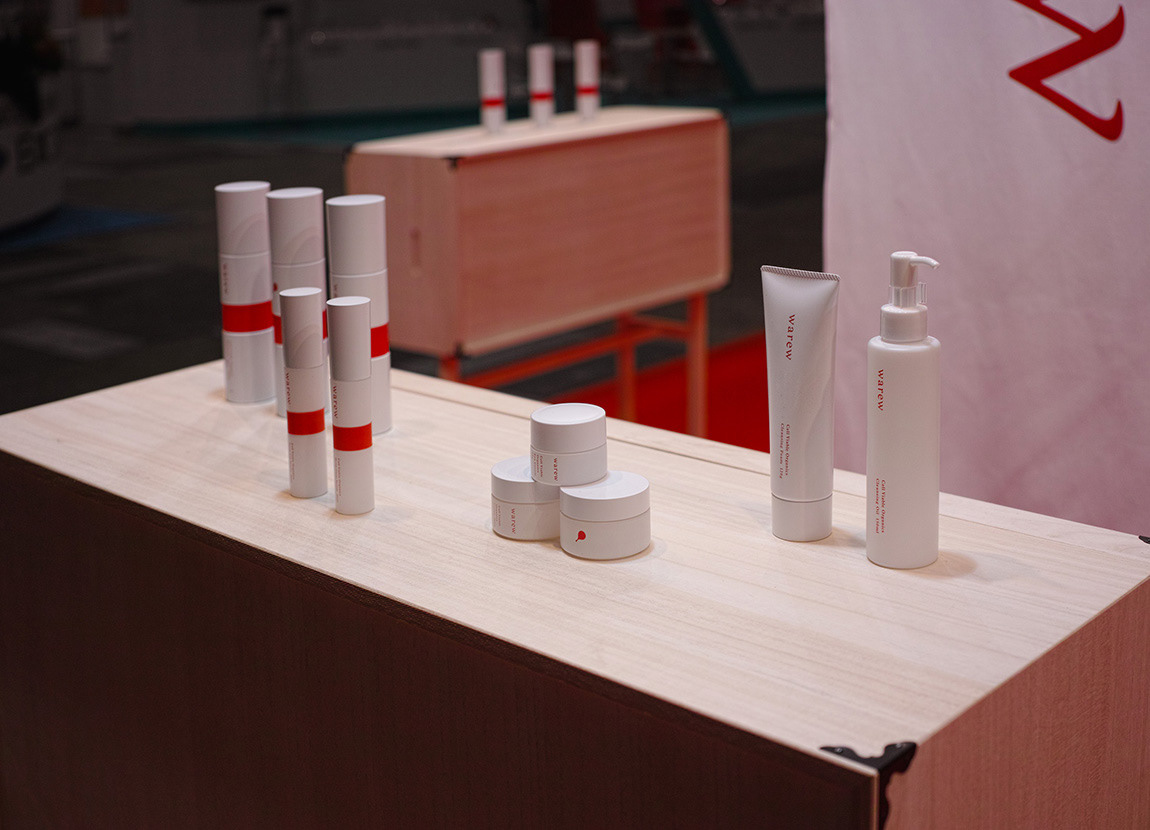 A design expressing Japanese beauty aesthetics, now being evaluated worldwide as it develops as a brand.
日本の美意識を表現したデザインは世界的に評価され、ブランドは現在も発展中
The package design of warew expresses the unique sense of Japanese beauty aesthetics found in the invisible spirituality of "wabi sabi", referring to its deep and rich simplicity. We were granted the Gold Award for PENTAWARDS in 2014 gaining a top position in cosmetic packaging. In addition, the brand continues to develop, where other brands are being formed that are simultaneously. In addition, warew continues to develop with derivative brands, where we assumed horizontal development of the brand from the beginning.
質素であることに豊かさや奥深さを感じ、目には見えない精神性にまで美しさを見出す日本特有の美意識「わび・さび」の思想を表現したwarewのパッケージデザインは、世界的なコンペティション「PENTAWARDS 2014」でGOLD AWARD」を受賞し、化粧品パッケージにおける世界一の座を獲得しました。また、当初からブランドの横展開を想定して デザインを行っていたwarewからは派生ブランドも誕生するなど、現在もブランドは発展を続けています。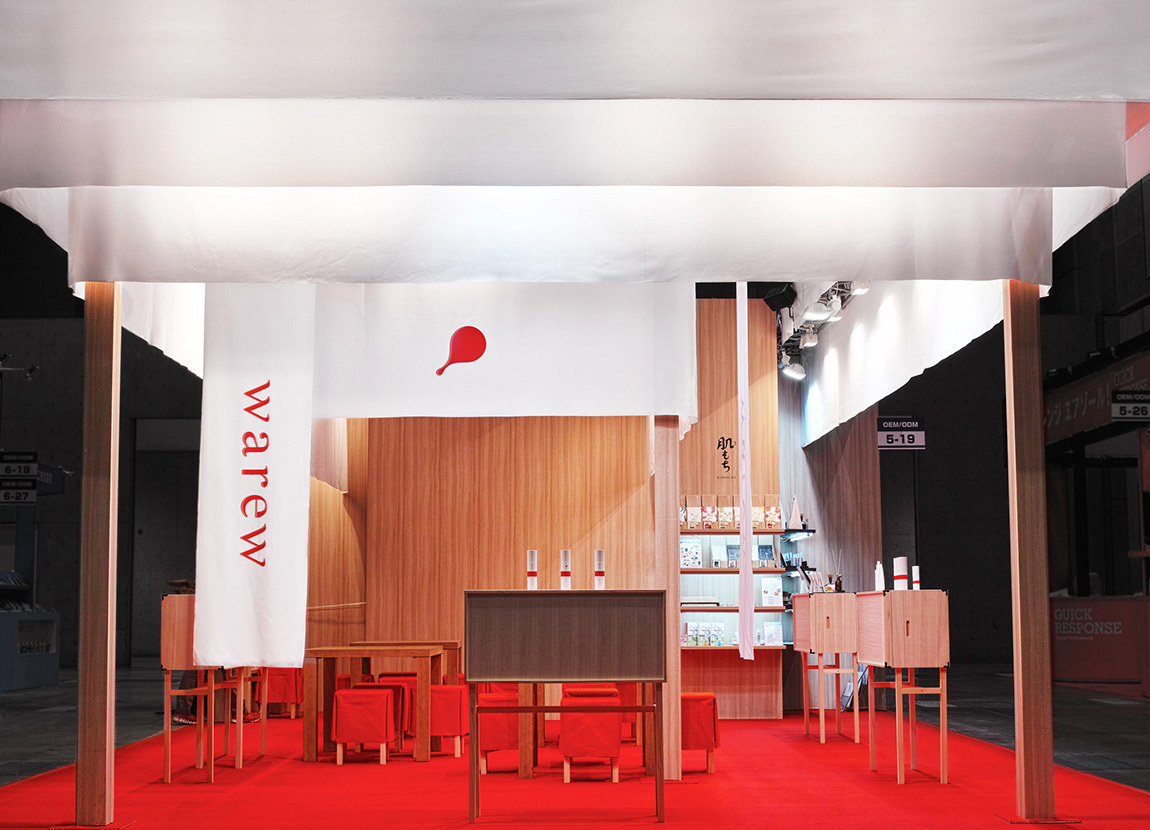 Social design for evolution.

NOSIGNER (Eisuke Tachikawa, Takeshi Kawano)
Graphic Design
NOSIGNER (Eisuke Tachikawa, Takeshi Kawano)
Client
COSMEDIA LABORATORIES Co.,Ltd.
Photo
Masaharu Hatta (products, hands, and woman dressed in a kimono), 
Takeshi Kawano (packages, exhibition space)