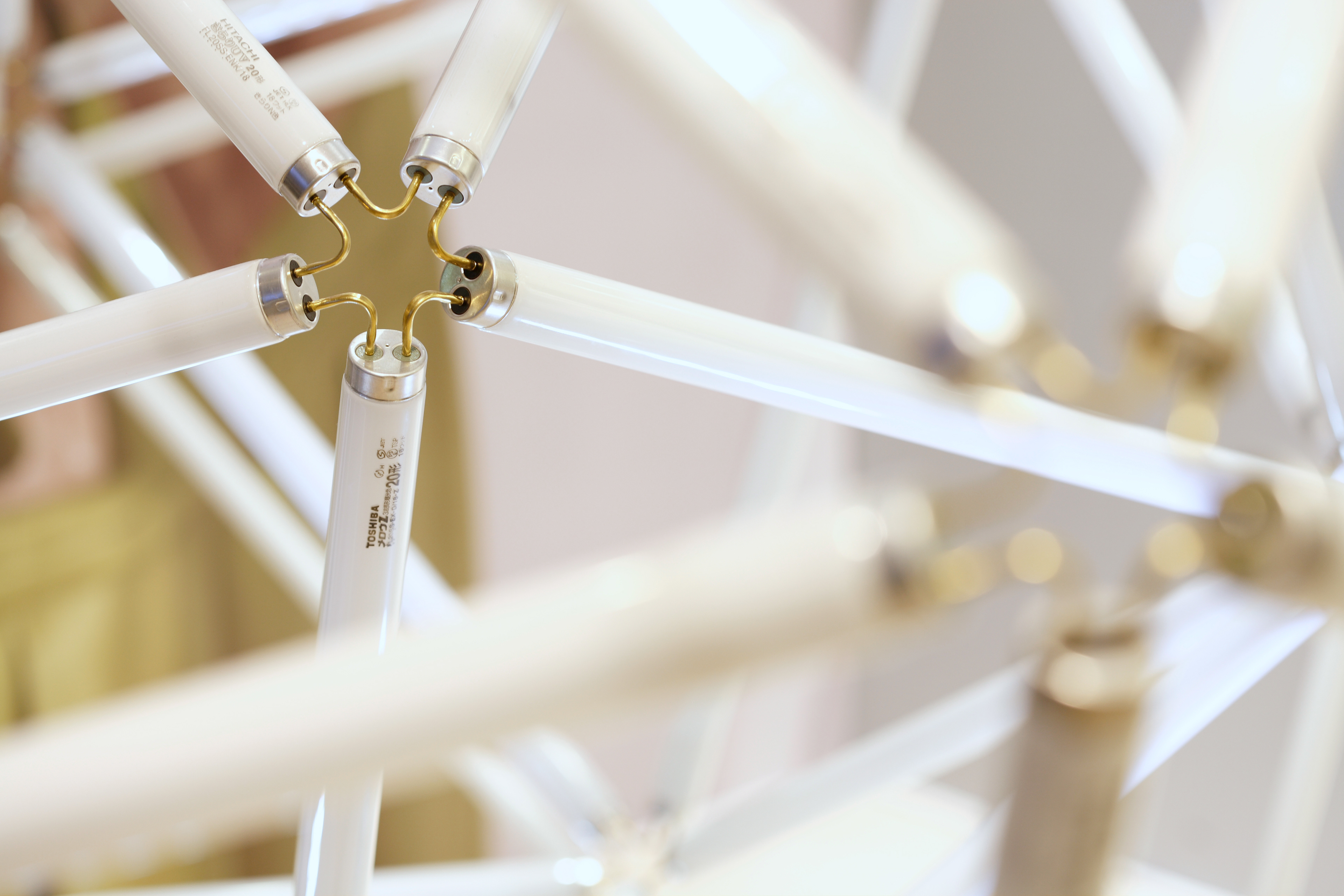 Through what way could we alert the harmful effects of mercury found in fluorescent lamps?
Total amount of fluorescent lights discarded in Japan every year
Amount of fluorescent lights reclaimed in the ocean
"FLUOLESS" is an experiment to create a large crystal structure from a large amount of used fluorescent light FLUOLESS PROJECT: Do you know the annual amount of discarded fluorescent lights? It is approximately 4 hundred million. 75,000 tons of used fluorescent lights are thrown away as garbage in Japan. 85% of these are thrown into the sea, even if it contains gaseous mercury. At the same time, fluorescent lights are very difficult to be recycled. Because it contains various materials that are toxic, it is therefore very difficult to recycle this into a fine and pure material. We do not see the discarded fluorescent lights with our own eyes. Once we throw them away, we easily forget about them.
FLUOLESSは、使用済み蛍光灯を連結して巨大な結晶構造を作り出し、問題提起するプロジェクトです。年間に日本国内だけで4億本もの蛍光灯がゴミとして廃棄されていることをご存じでしょうか。重量にすると75,000トン。そのうちの85%が海に埋め立てられています。同時に、蛍光灯はリサイクルの難しい素材でもあります。有害物質も含めて様々な素材が集まっているので、純度の高い物質を取り出すのが困難なためです。
We created an installation using discarded fluorescent lights and experimented with  its possibility as a material.
使用済み蛍光灯を素材とした空間デザインをつくり、素材としての可能性を実験する。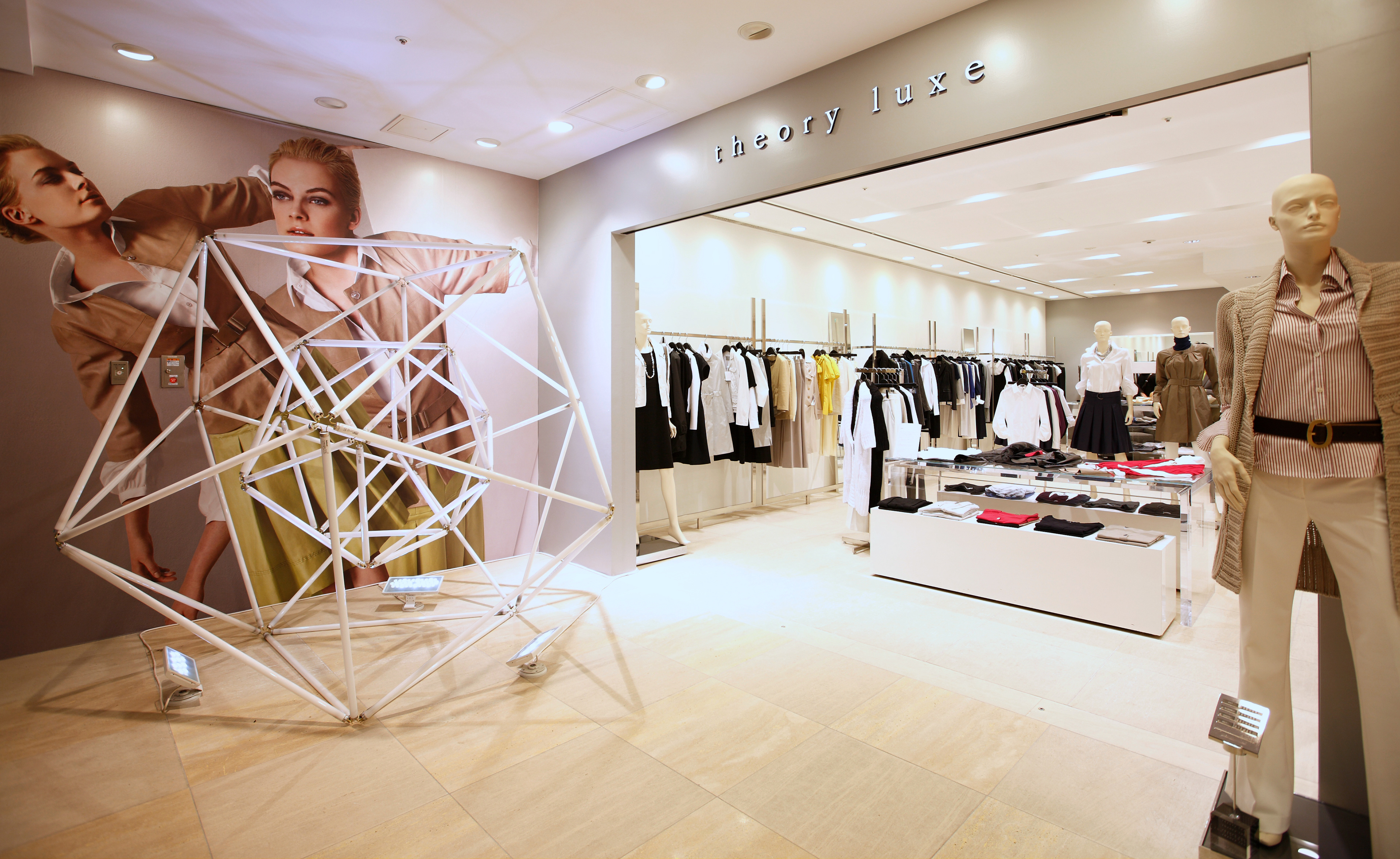 Is it possible to make a design with high purity that appeals to the human heart again from the discarded fluorescent lamp? This project is an experimental project that uses discarded fluorescent lights as a material for space design. The name FLUOLESS stands for the meaning of a complete one (FLOWLESS) by a lost (LESS) fluorescent light (FLUORESCENT).
廃棄された蛍光灯から、改めて人の心に訴えかける高い純度を持ったデザインを作ることはできるでしょうか。本プロジェクトは、廃棄された蛍光灯を、空間デザインの素材として利用する実験的なプロジェクトです。FLUOLESSという名前は、無くなった(LESS)蛍光灯(FLUORESCENT)による、完全なもの(FLOWLESS)という意味を表しています

。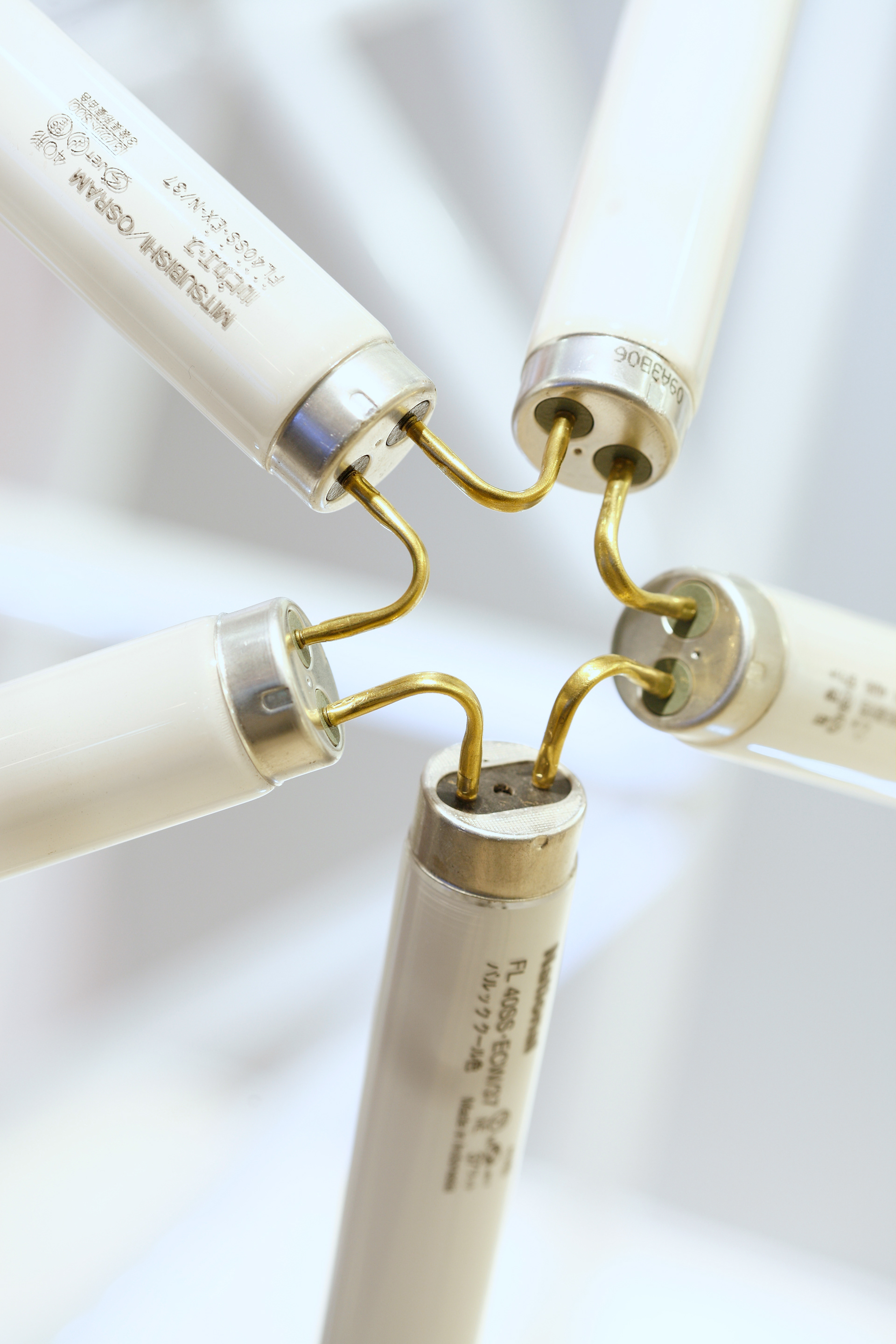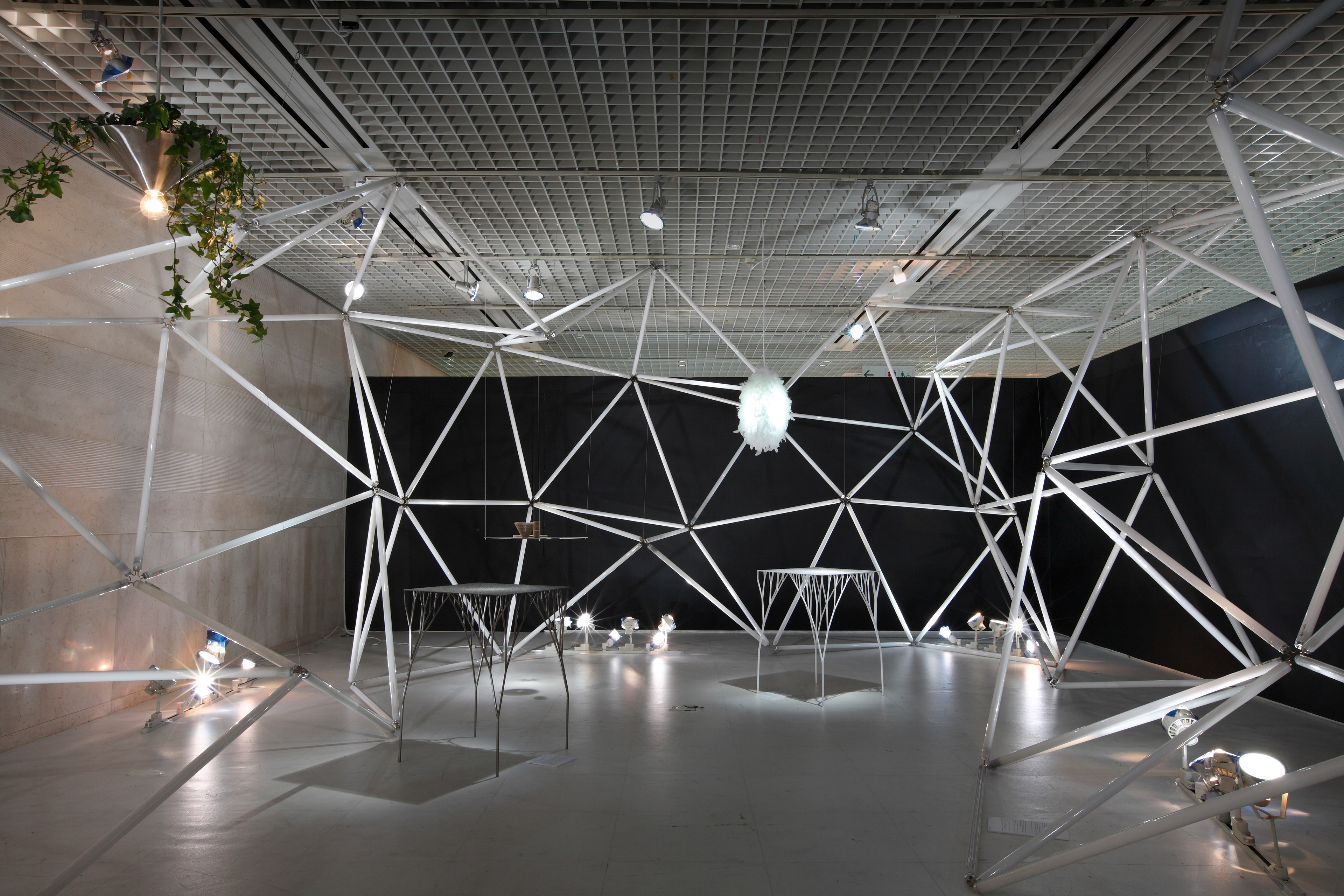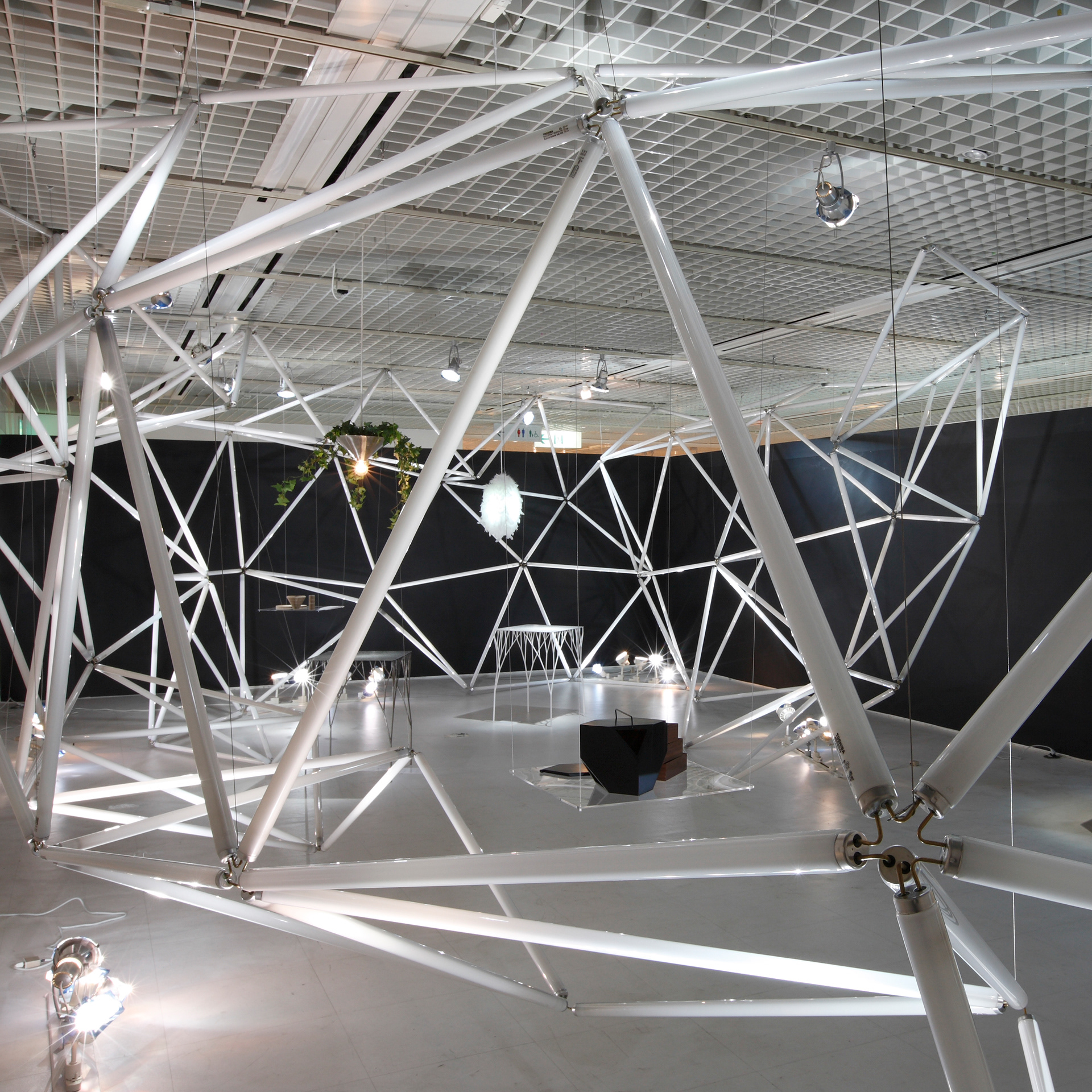 NOSIGNER (Eisuke Tachikawa)
Space Design
NOSIGNER (Eisuke Tachikawa)
Photo
Masaharu Hatta [FLUOLESS], NOSIGNER [FLUOFLOW]